By Gary R. Rasberry
grasberry@dailystandard.com
UPPER ARLINGTON -- With both Bishop Watterson and St. Marys being very similar in their style of play, it looked like just one touchdown would be needed to decide which team heads to the Division III state finals on Saturday.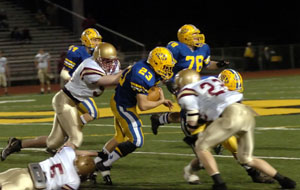 St. Marys got it, then added a spirit breaker just moments later.
Two scores in a span of 90 seconds elevated the Roughriders to their first state berth since 1993 with a 14-3 win over the Eagles at Moorhead Stadium in Upper Arlington.
The win sends the Roughriders (13-1) to the final on Saturday at 11 a.m. at Fawcett Stadium in Canton against defending champions Cleveland Benedictine. The Bengals (11-3) defeated Canal Fulton Northwest 38-20 at Fawcett Stadium in the other divisional semifinal on Saturday.
That 90-second span, which started with 3:28 to go in the third quarter and ended with 1:51 in the stanza, was the deciding factor of a game that lasted just two hours with both teams combining for just 13 passes on the night. At the start of the second half, Watterson (11-3) looked content to use its running game to eat up yards and clock after taking a 3-0 lead in the first quarter on Matt Swartz's 23-yard field goal. After all, the Eagles were doing a pretty good job on defense, holding the Roughriders to 91 yards of offense in the first half.
"At halftime I could just look into the kids' eyes and know they were going to find a way to win this game," said St. Marys coach Doug Frye, who not only survived the cold, windy rain, but also a full water cooler bath in the waning moments. "We were going to find a way to win the ball game and we did it."
The Eagles got the ball to start the second half and moved 49 yards on 13 plays, taking a total of 7:11 off the clock. The tandem on Eric Hard (68 yards on 18 carries) and Vinny DeMaria (31 yards on nine totes) moved the ball exclusively. St. Marys found the break on a fourth-and-one from the 'Rider 31 when the line kept Hard from getting to the 30, giving the Blue and Gold the ball.
Bo Frye gutted out seven yards on the first two plays of the drive as the Eagles quickly closed inside on the Roughrider fullback.
Then the spark occurred. On third-and-three from the 32, Corey Vossler handed off to Justin Nagel for the outside sweep. Nagel, who missed the second half of the Chaminde-Julienne game with a nagging hamstring, took advantage of some great blocks and moved quickly upfield, scoring from 62 yards out to give the lead, for good, to St. Marys after Ross Quellhorst's kick made it 7-3.
"The play was kind of slow to develop," said Nagel, who finished with 93 yards on eight carries. "I cut through against 10 guys. I was expecting to be caught from behind. It cleared open and I kept going. That was a big momentum swing. It kicked it our way."
"At halftime, we actually went backwards and got simpler with what we were doing," said coach Denny Vossler. "We simplified things and went back to basics and it paid off for us."
"They hit a big play," said Watterson coach Dan Bjelac. "It looked like (Nagel) hit a seam. It happens."
On the next drive, Watterson started giving the ball to Sam Jacobs. But on the third play, Jacobs took the ball around the left side and was stripped. Vossler, the lone two-way starter for the Roughriders, scooped it up and ran 38 yards for the score. Quellhorst's boot was true to give St. Marys a 14-3 lead.
"When you play with your heart, good things happen," said coach Frye. "We got playmakers, and they continued to make plays for us."
"We had been playing great defense (holding St. Marys to 105 yards of offense until Nagel's run)," said Bjelac. "Offensively, we didn't get it done. Weather's a factor, but that goes for both teams."
But there was 13 minutes and 51 seconds left in the game for Watterson to try and come back. That's when the Roughrider defense, which had been playing strong all night in allowing just the field goal, turned it up a notch.
The first series after the fumble returned for a score went three-and-out as Watterson quarterback Robbie Rosner began to throw more. St. Marys went to work on the clock with runs and more runs. It looked like Watterson could be at an advantage when several St. Marys penalties forced a punt back at the goal line, causing the Eagles to get the ball at the Roughrider 34.
Again, the defense stepped it up, capping the series with Nick Yahl sacking Rosner six yards back on a fourth-and-nine.
St. Marys continued to run the ball to eat up time and when it came time to give the ball back, the defense stepped it up. Yahl got another sack on Rosner and the last gasp came after Rosner completed a pass to Jason Ferrell, who let the ball slip, allowing Tom Burke to recover with 4:44 to go.
"What great defense all night," said coach Frye. "Great game plan by our defensive coaches. Great play by our kids. It's great to be a Roughrider."
"They were playing their base defense. There was no mystery there," said Bjelac. "They were playing it all the time."
The Roughriders picked up three first downs as Watterson used all its timeouts. The final straw came after Frye gained three yards on a first-and-10 from the Eagle 29. After the play, Watterson was flagged for unsportsmanlike conduct with less than two minutes left. With a fresh set of downs, Vossler kneeled three times to end the game.
"This is such a tremendous group of kids," said coach Frye. "We're excited about advancing on."
Now Frye gets his opportunity to coach the Roughriders for a state title, joining the legendary Skip Baughman for that honor. Baughman won three titles in 1990, 1992 and 1993. St. Marys has never lost once they won a regional title.
"We're so happy to represent St. Marys and the Western Buckeye League," said coach Frye. "Like any other football game, we just don't want to represent. We want to play well."