By Ryan Hines
rhines@dailystandard.com
Turnovers continue to plague the Celina girls basketball team.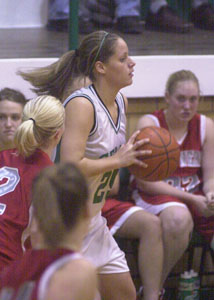 Van Wert benefited from the Celina turnovers and edged the Bulldogs at the Fieldhouse, 37-34, in a low-scoring Western Buckeye League affair.
"This was just like a typical WBL game," said Van Wert head coach Roland Alvarez. "It was a defensive game that went back and forth. We hit a couple of big shots late and came away with the win."
Celina turned the ball over 23 times and added a poor 1-of-8 effort at the free-throw line to drop to 1-4 overall on the season and 0-2 in the WBL. Van Wert improves to 2-3 overall and 1-1 in league play.
Despite the turnovers and free-throw shooting woes, Celina still had a chance to win the game in the fourth quarter. The Bulldogs actually led 27-25 at the start of the final stanza, but that quickly changed as the Van Wert Cougars made their run.
Celina had a chance to push the lead to four points but two missed free throws by Betsy Hone gave Van Wert the ball right back and Emily Blackmore drilled a trey to give the Cougars a 28-27 lead.
Allie Clifton, who missed nearly four minutes of game play in the third quarter after hitting her head on the floor chasing a loose ball, then extended the Cougars' lead by two with a strong drive to the hoop.
"Our offense got a little stagnant in the third quarter when Allie was out of the game after the injury," said Alvarez. "Her returning gave our team a spark that we needed and it was just enough. We miss her rebounding and her scoring when she's not in there."
Celina's Kinsey Schumann then hit a bucket and was fouled, but she missed the free throw, leaving the Bulldogs down by one at 30-29.
Van Wert then reeled off five straight points, including another three-pointer from Blackmore to give the Cougars a 35-29 lead.
Celina's Liz Homan cut the Cougars' lead to four on a nice post move with 35.4 seconds left to play.
Clifton then missed the front end of a one-and-one opportunity and Hone buried a trey from the wing with 19.9 seconds left to play leaving the Bulldogs down by one point, 35-34.
Van Wert had made just 2-of-7 from the charity stripe in the fourth quarter, but Katie Bagley calmly sank two freebies pushing the Cougars' lead to 37-34 with 14.8 seconds left.
"She is probably our best free-throw shooter so we wanted to keep the ball in the hands of our best free-throw shooters at the end of the game," said Alvarez. "She wasn't have a very good night offensively (1-of-9 shooting on field goals) but she just went to the line and hit two big free throws for us and that was huge. She just stepped up in a big situation."
Celina worked the ball around the perimeter on its last possession before Hone's off-balanced three-point attempt was off the mark as the buzzer sounded.
"It's amazing that we were even in the game with the way that we turned the ball over and how we shot free throws," said Celina head coach Brian Stetler. "I can't fault our kids' effort, it was their effort that kept us in the game with all the turnovers."
Clifton led all scorers for VanWert with 12 points and eight rebounds while Blackmore added 11 markers with a trio of three-pointers.
Hone led Celina with 11 points, Homan added 10 point and Schumann came off the bench for six points and a game-high nine rebounds.
Celina is back in action on Monday at Ansonia.
"What we need right now is to get a win and build some confidence," said Stetler. "We've played in some close games and come up short, but I think that if we can win a game like that, it will really help our confidence."
Phone: (419)586-2371, Fax: (419)586-6271
All content copyright 2004
The Standard Printing Company
P.O. Box 140, Celina, OH 45822