By Gary R. Rasberry
grasberry@dailystandard.com
CANTON -- After winning his first six titles in Massillon, Al Hetrick got his first chance to coach in a state championship in Canton.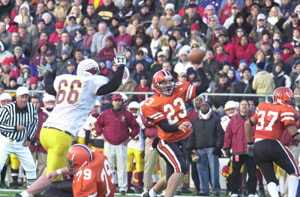 Much as W.C. Fields once lamented "On the whole, I'd rather be in Philladelphia."
It looked like the Tigers wanted to be in Massillon again by the end of the game on Friday.
The Tiger offense was stymied by a tough Cardinal Mooney defense and the Cardinals' offense came up with big plays to take the Division IV state title with a 28-6 win at Fawcett Stadium, denying the Tigers a seventh title in school history.
"We knew going in that Mooney had an excellent football team," said Hetrick. "They play a big time schedule (featuring Warren Harding and Benedictine) . We haven't seen that speed all year." The speed came from tailback Nate Burney and quarterback Kyle McCarthy.
It was McCarthy who was the one who put the Tigers behind early.
After a scoreless first quarter, Mooney started a five-minute drive in the second quarter as McCarthy rushed for 35 yards on the series, with the last 13 yards going into the end zone to get the lead for good.
Versailles looked to even things up right away with a 15-play drive, getting as close as the Mooney 21. On a fourth-and-12 with less than 30 seconds left, Tiger quarterback TOny McNeilan looked for a slant pass. The ball appeared to be tipped and McCarthy, playing safety, made the pick and went up the sidelines for a 93-yard interception return for a touchdown, breaking the old Division IV final mark of 63 yards held by Randy Miller of Ostego in the 1981 game. It also broke the overall finals record held by St. Marys grad Mike Elston back in the 1990 Division II final against Columbus DeSales.
"The quarterback getting away from us 2-3 times in the game really hurt us," said Hetrick. "The thing that really hurts us, in my opinion, was the interception right before half to put them up 14-0."
"I believe so," answered Mooney coach P.J. Flecko on whether he expected big plays to be the decider. "There were two good teams out there that battled well."
The Cardinals (12-3), worked the ball more on the ground in the second half as McCarthey completed just one pass in the game. The pass, though, went for 47 yards to Dan Buccino to put Mooney up 21-0. Versailles was able to get a score across late in the third quarter as McNeilan punched it in from two yards out with 2:42 left in the quarter.
Versailles had a chance to cut it to 28-13 late, but McNeilan was picked off by Burney at the Mooney 10 to end the threat. A last drive got to within the Mooney 14, but McNeilan's pass to Kevin Paulus was incomplete, allowing Mooney to take the knee twice to end the game.
"The kids played hard. They fought. We punched one in in the second half," said Hetrick. "We got another drive going but (it didn't pan out)."
The Tigers' running game, which was powerful all season, was held in check for the most part by Mooney. Versailles rushed for 168 yards on 37 carries. Take away a 54-yard run from Curtis Wourms to end the first quarter and the number drops to 114 yards.
"They bring their safety up like a linebacker. He was coming in and blowing up up our running plays," said Hetrick. "We felt we had to loosen him up (with passing plays). We executed some of them, but not enough of them in a row."
McNeilan had to pass more to try and keep the Cardinals honest, but missed his first seven passes of the game and was 5-of-23 for 80 yards and two interceptions.
Mooney was able to run with the ball, rushing for 241 yards in the game. Burney carried 19 times for 118 yards with McCarthy adding 98 yards in 12 carries.
"It took us a half to get adjusted to their speed," said senior lineman Mark Keiser. "We've never seen speed like that. That game speed we couldn't simulate in practice."
"We've seen fast guys before," said linebacker Brian Dapore. "We haven't seen that speed before."
"First off, we want to congratulate Versailles on a fine season," said Flecko. "They have an outstanding football team. Year in and year out they are consistently good. They have to be commended for it."
Wourms finished with 89 yards rushing and 30 yards receiving. Russ Beisner finished with 71 yards rushing.