Celina struggled with the press and Linden McKinley utilized its inside strength to beat the Bulldogs, 65-56, in Celina's home opener.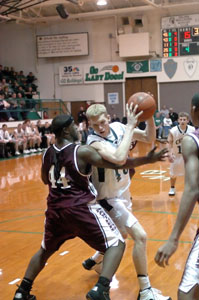 The Bulldogs double- and triple-teamed the Panthers' Shaun Gunnell, but the big man was more than a match for Celina's inside defense, hitting 14 of his 19 field goal attempts and pulling down 12 rebounds, six of them from the offensive glass. Gunnell's 29 points led all scorers.
McKinley's Samuel Payne was also in double digits with 16 points. Celina (0-2) placed three players in double figures. Seth Staugler and Scott Luthman scored 13 points each and Aaron Braun added 12.
Linden McKinley evens its record at 1-1.
"We played with a team concept tonight," Panthers' coach James Jones said. "Everyone played a part. The difference between what we had last, or even last year, was our attitude. Attitude makes a difference in what you choose to do, and tonight, we chose to win." The third quarter was the turnaround for the Panthers, who trailed, 35-26, at halftime. Gunnell, who hit 11 consecutive field goal attempts in the second, third and fourth quarters, hit each of his five shots in the third period.
"He is a physical presence," Celina coach Mike Kanney said. "And we knew that. We're not the biggest team around. He's a very good post player at 6-1. He's a wide body with great anticipation and rebounds very well. We were warned about him ahead of time. He averaged over 17 rebounds a game last year in the Columbus City League, so that means he had to have a couple of phenomenal rebounding games."
"We talked about the press," Jones said. "We had to get out of the zone because we weren't staying with number 41 (Brandon Wurster). The zone was working a little, but we had to get out of it and press the second half."
Payne got the first score, cutting the lead to seven, and Gunnell scored inside to slice the margin to five.
The Panthers answered a Wurster free throw with three scores. Payne scored inside, Darnell Maxwell scored off a steal, and Gunnell went inside again to tie the game at 36-36.
Eric Klosterman scored to regain the lead for the Bulldogs, but that was nullified by another score from Gunnell. Maxwell followed a Celina turnover with a basket and Aaron Braun worked his way around Gunnell on the baseline to tie the game again.
Gunnell sandwiched a pair of offensive rebounds around a free throw by Braun to give McKinley a 44-41 lead going into the fourth quarter.
"We got the ball inside and went back door a couple of times," Kanney said. "We took pretty good care of the ball in the first half (three turnovers), but we committed a few more (five) in the third quarter. When teams press like that, you'll sometimes hurry your shots and that's part of what we did in the third quarter."
McKinley pushed its lead higher when Gunnell scored inside just a few seconds into the quarter. Celina got a bucket from Braun and a free throw from Staugler before Gunnell scored inside . Celina turned the ball over and Maxwell hit a three-pointer from the top of the free throw circle to push the lead to 51-44.
After Gunnell hit another shot inside to make it 53-46, Klosterman hit one of his two free throw attempts to pull the Bulldogs to within six points. A slam by the Panthers' James Davis improved the lead to eight.
Staugler hit a foul shot and Gunnell responded with the final basket of his 11-shot run and McKinley's lead was boosted to nine, the biggest margin of the night.
Celina cut the gap to seven in the closing seconds on Staugler's second three-pointer of the game, and Maxwell scored the games' final hoop to set the final score at 65-56.
Celina plays host to Bellefontaine tonight, with the freshman game staring at 4 p.m., along with the junior varsity and varsity games following that.