MASSILLON -- Amanda-Clearcreek may have had the Aces, but it was St. Henry that held the winning hand.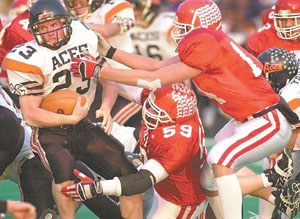 The Redskins took the Division V state title with a convincing 35-7 win over the rugged and determined Aces. Both teams finish the season at 14-1.
In the final analysis, it was the performance at the line of scrimmage, on both sides of the ball, by St. Henry's big linemen that proved to be the difference.
On the defensive side, it was the play of Alan Hartke, Corey Everman, Kalen Hemmelgarn and Toby Boeckman, along with linebackers Andy Puthoff, Ross Niekamp, Ryan Hartke and Cody Borger that contained the Aces' high-powered running tandem of Nate Saum and Kent Phillips.
Saum and Phillips had both gained nearly 1,200 yards coming into the game. The pair gained just 88 combined yards on the ground against the Redskins' starters, with Saum picking up 62 and Phillips gaining 26. The St. Henry starters also held quarterback Sam Davis to four yards on four carries and dropped Brice Bailey for a 10-yard loss on his only attempt. "We want to be a physical football team every week," said Redskins' coach Jeff Starkey. "We've got two big ends (Alan Hartke and Boeckman), our one tackle (Everman) is fairly big, Kalen's not so tall; but we ask them to contest every ball, just as if they were playing basketball. We have enough size we can do that."
"Defensively, their ends wrong-armed us and we hadn't seen where they did that all year," said Amanda-Clearcreek coach Ron Hinton. "They pinched down inside, so we decided to go outside. Every time our hats came up, they came up with us and just flowed with us. They were very well coached."
Offensively, it was center Stephen Uhlenhake, guards Matt Lauber and Kevin Kaup, and tackles Steve Dailey and Brian Rammel who kept pressure off quarterback Nate Stahl and opened holes that allowed Jon Hemmelgarn and Ryan Vogel to combine for 167 yards and four touchdowns.
"They (Redskins) did a lot of good things out there," said Hinton. "When you give a quarterback like that enough time to throw, he's going to find an open receiver. You can only cover someone for so long."
"Nate had a great year," Starkey said. "He knows what I'm thinking, as Frank (Griesdorn, defensive coordinator) says, though, that may not be a good thing. He doesn't make mistakes. The line gives a lot of time to throw and lets him sort things out and find a receiver."
The Redskins came up with their first big play on defense on the Aces' first possession when Alan Hartke stopped Saum for no gain on fourth-and-one just three minutes into the game. The next big defensive play came on Clearcreek's next series when Brady Schmitz intercepted Davis on the Redskins' 19-yard line and returned it to the 35.
The offensive line got untracked in the second quarter, pushing the Redskins' on a 50-yard drive, with Jon Hemmelgarn blasting over from the five-yard line to put St. Henry in front, 6-0.
"We knew they were a good team," Hemmelgarn said. "But I had a lot of room to work because of the offensive line."
Early in the third period, Hartke again came up big, batting down a Davis pass to force second-and-long, and two plays later, Saum was hit by the Redskins' line and lost control of the football, with Borger recovering the fumble on the Clearcreek 39-yard line.
The offensive line created a couple of holes on the ensuing possession with Hemmelgarn running for 15 and 22 yards, the latter taking him into the end zone for his second score. Stahl ran to the right for the conversion, giving St. Henry a 14-0 lead.
Another big defensive play came later in the period when Puthoff stopped Phillips short on a fourth-and-two. The Redskins found themselves with a third-and-10, and got the first down when the Aces were flagged for pass interference on a pass intended for Matt Hemmelgarn.
Rammel and Kaup opened a big hole on the left side and Jon Hemmelgarn found his way through for a 54-yard touchdown run with 2:56 on the clock. Jon Clune kicked the extra point to give the Redskins a 21-0 lead.
The Aces followed with their biggest drive of the game, keeping it alive when the offensive line had enough surge for Phillips to pick up a first down on a fourth-and-one late in the third period. A 16-yard completion from Davis to Bailey set up Saum's four-yard scoring run with 9:56 left in the fourth quarter. Carlos Del Angel added the point after and the lead was cut to 21-7.
Josh Werling returned the kickoff 22 yards to the St. Henry 38, and a 42-yard completion from Stahl to Brady Schmitz put the Redskins in striking distance of the goal line. Stahl's 20-yard touchdown pass to Alan Hartke and Clune's extra point increased St. Henry's lead to 28-7.
A fumble recovery by Puthoff ended the Aces' next possession and the Redskins needed just four plays to cover the 31 yards between the goal line and another touchdown. Three runs took it to the five-yard line and fullback Ryan Vogel got the score when he went inside the pylon on the left side for the score. Another Clune point after jumped the lead to 35-7.
A-C had one more possession and the Redskins' defense made one more big play. Sophomore defensive back Mike Gast outjumped a Clearcreek receiver in the end zone to intercept Davis and allow the Redskins' backup signal-caller Doug Griesdorn, to run out the clock.
"We were ranked number one in the state, so we couldn't sneak up on anybody," Hinton said. "If we had been ranked a little bit lower, we might have been a little surprise to some teams, and maybe then we could've competed with a great team like this."
Past success was a big plus for this group.
"Winning state in basketball last year really helped with our confidence," Jon Hemmelgarn said. "We knew we would face some big games, like we did in basketball, and having been through that helped a lot. We knew going in that we had found ways to win before, and we thought we could do that this year."
"Coming back to this area was really nice for me," Starkey said of his return to Massillon, where his coaching career started and near where his family lives. "More importantly, it was being able to share this with this group of kids. There's been a lot of hard work and it's paid off."