By Shelley Grieshop
sgrieshop@dailystandard.com
It's not easy being Santa.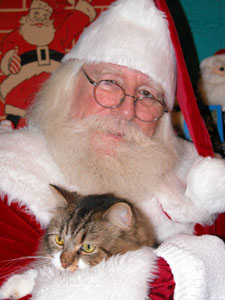 You have to learn how to hold children -- too loosely and they tumble from your knee, too tightly and they squeal. Breath mints are a must, and of course, the names of all eight reindeer must be permanently etched in your mind, in order.
Norm Hamlin learned the ins and outs of jolly ole Saint Nick when he attended Santa Claus School in Toledo years ago. Yes, there is such a thing and he plans to attend another this summer.
"I learned a lot from that class," said Hamlin, a Santa helper in Celina. "You want to know how we keep cool? A little baby powder goes a long way."
Hamlin, 64, with his long, snow-white beard and hearty belly laugh, is a dead ringer for the job. He draws plenty of attention as Christmas approaches but even in the off months the resemblance can stop traffic. "Kids ride by on their bikes in the summer and holler 'Hi Santa,' so I give them a Ho, ho, ho," he says while demonstrating a gentle wave.
At the one-day workshop in Toledo, Hamlin says Santas-to-be also are taught how to talk to children, how to put the velvety red suit on properly and the complete history of Kris Kringle. Kids will ask about everything, and he's learned to be prepared.
Hamlin began portraying Santa in 1998 when he and his wife, Loveda (also known locally as Mrs. Claus) lived in Findlay. A friend of his spent 40 years doing gigs as Mr. Claus and sadly passed away in 1997.
"I went out to see the new Santa in the mall that year and it just wasn't the same," he says in a deep voice. "I told my wife I would do it next year."
And he did. He answered an ad for the job and was hired on the spot because of his convincing beard. It was white as required, but short at the time.
"I told the kids I fell asleep while feeding the reindeer and Rudolph chewed it off. They accepted that," he says with a wink.
The hair atop his head is not as white as snow and takes a little bleaching -- a job he keeps up year-round.
It didn't take long for Hamlin to embrace the idea of being Santa, wire-rimmed glasses, pot belly and all. After meeting him, many people aren't so sure he's not the real thing.
Since moving to Celina four years ago, he's filled in for Santa Claus at various locations in the area and currently helps out at the downtown Santa house when the "real guy" needs to head north for an elf check.
Hamlin, a father of three and grandfather of two dozen, has memories that will last a lifetime. With that familiar chuckle, he recalls one naughty 95-year-old woman who called him "handsome" and requested he accompany her home.
"I said 'Ho, ho, ho, as much as I'd like to go home with you I have to stay here for the children,' " and the lonely old woman smiled and said she understood, he says.
While playing Santa at the Findlay mall, he was honored to hold a 3-day-old infant on his way home from the hospital.
"I had to keep looking down at him, I was so afraid of dropping him," he says smiling.
Then there was the little girl, who not too long ago, hopped onto his lap with big sad eyes. She said she wanted her mommy back, she had died recently.
"I told her that mommy was always with her and all she had to do is close her eyes and she could see her again," he recalls. "She told me she loved me and gave me a hug. It almost made me cry, and that's hard. Santa's not supposed to cry."
Hamlin's cozy home keeps the holiday season alive all year long. As "I Believe in Santa Claus" plays on a dust-covered stereo, a 4-foot-tall Santa dances a jig and sings Christmas songs in the entranc way.
A sign outside proudly announces, "Santa lives here." And even his license plate states "NH (Northern Hemisphere) SANTA."
Christmas, you see, is truly his life.
"I always figured if I could make people happy, my life would be worthwhile," he says. "I think I'm on the right track."