By Sean Rice
srice@dailystandard.com
When Celina's new 1.5-million gallon water tower is completely filled, the increased water pressure could cause a splurge of water main breaks in weak lines across the city.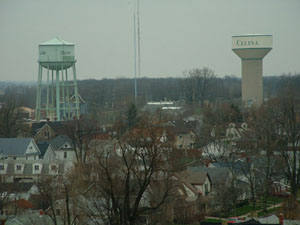 Celina Water Superintendent Mike Sudman is not sure how bad the transition will be when the water level in the new Summit Street tower is increased, but he doesn't want to find out during the winter when the ground is frozen.
Sudman has heard of communities that had no trouble when filling a new tower. He also heard of communities that had "mains blow out of the ground" when a new tower is put online.
Construction of the Summit Street tower was completed this summer. It is now filled about one-third full, and the old 400,000-gallon Touvelle Street tower is empty and off line.
The increased height of the Summit Street tower will cause city water pressure to increase about 13 pounds per square inch when the tower is completely full. At the current water level, Celina's water pressure already has increased about four pounds. Sudman said the three-man water distribution crew, which responds to water line breaks, has not yet seen an increase in the average number of breaks.
"It's not like it's going to create new leaks, they would have happened over time anyway," Sudman said. "We'll do it slow and make repairs as they come."
Sudman said he doesn't plan on filling the tower anymore until spring, because frigid water is more dense than warmer water and can do more damage to lines.
Though 13 extra pounds of pressure may not seem like much, Sudman said it is a considerable increase. When the tower is full, every square inch of water in the system will be pushing 13 pounds stronger in every direction.
The added pressure alone may not cause pipes to burst, but the pressure from "water hammers" will be that much stronger.
Sudman said a water hammer moves through water lines like a sound wave. It is caused when valves are opened and closed, much like when residential copper lines shake and move when water is turned off and on.
When large city water users open and close a valve the sonic boom of pressure is sent bouncing through the system. And, if one water hammer meets another water hammer traveling in the other direction, the collision could cause a weak spot in the line to blow.
"What reason is there to fill it right now," Sudman said. "Really I don't know how fast I'm going to fill it."
Lowell Dock, former Celina water chief from 1965 to 1982, is certain problems will arise when the tower is filled.
"I anticipate problems, but it's a reasonable approach," Dock said of the plan to fill the tower slowly.
The new tower is the same height as the Celina-eastern Jefferson Township tower on Grand Lake Road, and therefore will have the same pressure pushing down.
The Grand Lake Road tower starts a new pressure zone in the city and only affects the water system east of the tower in Jefferson township. Dock said in the past the Touvelle Street tower was emptied for repairs, and numerous breaks were caused by the added pressure from the Grand Lake Road tower pushing down on city lines.
Dock also said it will be hard to tell the effect, because some lines and joints in the water system are 102 years old.
"In all honesty, nobody knows. Until I start filling it, it's just wait and see," Sudman said of the possible breaks. "I know the city can't afford for me to fill it up today."
Phone: (419)586-2371, Fax: (419)586-6271
All content copyright 2004
The Standard Printing Company
P.O. Box 140, Celina, OH 45822