By Janie Southard
jsouthard@dailystandard.com
MENDON -- A pretty pink poncho was the start of a new pastime that has turned Judy Needham into a poncho-packin' grandma.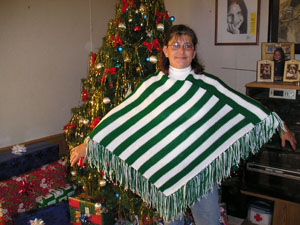 Needham's 7-year-old granddaughter Morgan Perry begged for a poncho to wear to school so Needham bought her a lacy pink one.
"Oh, it was pretty but it cost me $30 and after she'd worn it one week she brought it to me to fix all the snags. Well, I decided I could make a better poncho myself," Needham told The Daily Standard last week at her rural home near Mendon.
And, so she did knit a better poncho -- a purple and white one, and another one, and another one, and another one -- all on the knitting machine her husband bought her three years ago.
And now, six months later, Grandma Judy has all she can do to keep up with the poncho orders. Even though she uses a machine, the ponchos are truly handmade. The machine, a long metal strip with hundreds of teeth and a backboard threading structure, requires constant supervision and, of course, Needham has to manually push the knitting shuttle back and forth.
"It took me a long time to figure it all out. I'd made some sweaters and afghans on it, and then I figured out how to do the ponchos," she said, seated in her living room attaching fringe by hand to her latest black tweed adult poncho.
At first she made the ponchos as gifts for friends and then she started getting requests from women at church to purchase her ponchos.
"After a while it occurred to me to make ponchos in stripes of school colors, like green and white for Celina, orange and black for Coldwater and so forth. Then I made ponchos with hoods for babies and then hoods for any poncho," she said.
It takes about three hours to make a child's poncho and about five hours for an adult version. Most time-consuming is attaching the fringe by hand, but that's the only way she has to get it done.
"Many nights I sit here in my chair all evening and watch television while I put on the fringe," said Needham, who does not work outside her home.
She enjoys making the ponchos, which she packages in Christmas boxes complete with bows, but doesn't want to grow into a full-time business involving other people.
"It's just my hobby, but if gets much bigger I'm going to need a building and help, which is just too much. I don't want the hobby to get to be a burden," she said.
However, her hobby could easily grow into something more because she has a Web site now, and she also has a vision of the crowd at a Celina game all decked out in her green and white ponchos.
But any and all color combinations are possible.
"If there's a yarn made in the color you want, I can make the poncho," she said.