By From staff reports
newsroom@dailystandard.com
Celina Police Department patrolmen responded to three minor accidents this morning, all involving slippery roadways.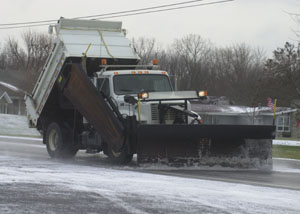 "That is kind of unusual," said Cal Freeman, assistant city police chief. "They are definitely snow related."
Mercer County Sheriff's deputies also responded to at least three snow related accidents before 10 a.m. this morning, Sheriff Jeff Grey said, with possibly two accidents resulting in injuries.
Grey said there were three vehicle rollovers near Fort Recovery and another serious accident east of Celina.
"I encourage parents, especially, to talk to their kids," Grey said. The Wapakoneta post of the Ohio State Highway Patrol handled numerous accidents in Auglaize and Mercer counties stemming from the early morning snowfall. Fortunately, none resulted in injuries.
"It's been pretty steady," said Lt. Dan Lay, post commander. "Most of them involve people sliding into ditches."
Lay said the first couple snowfalls of the season keep law enforcement officers occupied as motorists adapt to driving on hazardous roadways.
"It's a general rule of thumb that if the roads are white, we need to slow down especially at intersections," he advised.
Lay also suggests to drivers to take note when streets and highways are wet first thing in the morning.
"If the temperature is hovering below 32, you have to drive like you expect there could be ice out there. At the very least, expect it to be slippery," he said.
Snowplow crews in Mercer County hit the streets at 7:30 a.m., soon after the first flakes hit the pavement. Mike Borns, with the Mercer County Engineer's Office, said all 13 plow drivers were out salting the county's roads this morning.
The county goes through more than 2,000 tons of salt per year, he said.
The National Weather Service forecast for Mercer County shows a continued cold streak for the week, with temperatures not expected to break out of the 30s through Sunday.
As for snow, this morning may have been a primer for what is to come. A slight chance of snow remains for today and Tuesday, with little or no accumulation expected.
Phone: (419)586-2371, Fax: (419)586-6271
All content copyright 2004
The Standard Printing Company
P.O. Box 140, Celina, OH 45822