ST. HENRY -- Two big scoring runs -- a 14-point third-quarter run and a 14-point fourth-quarter surge -- were the key in St. Henry's 58-43 non-league win over St. Marys at St. Henry on Saturday.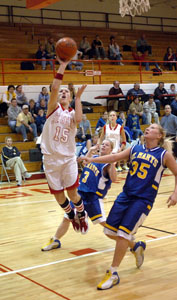 Each run was keyed by a basket from Danielle Kremer, who led all scorers with 19 points. Kayla Lefeld had 13 points and Brenda Hemmelgarn added 10 for the winners. Brittany Howell had 11 points to lead the Roughriders.
The Redskins even their record at 2-2, while the loss drops the Roughriders to 2-4.
Kremer's back-to-back three-pointers to start the third-quarter run closed the Redskins to within two points at 30-28. Hemmelgarn tied the game by putting back an offensive board, and the Redskins took the lead on Kremer's turnaround jumper in the lane.
"We were getting good shots; there just wasn't anything going in," said Redskins' coach Charlie Maier. "We made some mental errors with passes, but I told them that we just have to clean it up and we'll be fine. Just stay in the passing lanes on defense and run with them. We got a nice run there and made some steals. We have more bodies than they do, and I thought we just wore them down. Their shots weren't as good and they started making some mental errors." "They played harder than we did," said Roughriders' coach Bruce Brown. "They got the lead early in the third quarter and just built on that."
It was the fourth quarter run that locked the game down. After a pair of free throws by the Roughriders' Ashley Hall pulled the visitors to within five at 44-39, Kremer scored on an inside move to push St. Henry's lead to 46-39.
"I really thought things turned when we went into what we call the mouse defensively," Maier said. "Then they (Roughriders) are just standing around and we're getting into the passing lanes and getting some scores off our defense. St. Marys didn't adjust to that very quickly."
Hemmelgarn added two free throws and Lanee Mikesell hit a jumper from the left side to increase the lead to 11. Kremer added four free throws for a 54-39 lead, and two more baskets from the inside by Lefeld and Kremer improved St. Henry's lead to 58-39.
St. Marys managed to put four more points on the board to set the final score at 58-43.
"Shots are a big momentum breaker," Maier said. "We missed a few, but we also hit a few. If a team hits a few shots in a short run, that can really turn a game around. When Danielle Kremer hits a big three from the wing, and we get a turnover and she drops another one in, that puts a lot of pressure on them."
St. Henry's play in the first half had kept the Redskins close to St. Marys, but they were unable to regain control of the game after a pair of Ashley Hall free throws had broken a 5-5 tie and put the Roughriders in front for the first time at 7-5. Stephanie Platt's basket improved that margin to 9-5, and another basket by Platt in the second period increased the Roughriders' lead to its biggest of the game at seven, 25-18. A free throw and a basket by Mikesell and Erika Wilker's score pulled the Redskins closer and set the stage for the third quarter run that put the Redskins in front and led to the win.
St. Henry's next action is on the road at Celina on Tuesday, and the Redskins return to Midwest Athletic Conference action on Thursday at New Bremen.
St. Marys returns to Western Buckeye League action on Thursday, hosting Ottawa-Glandorf, before embarking on a tourney trip for the holidays at Ayersville.
Phone: (419)586-2371, Fax: (419)586-6271
All content copyright 2004
The Standard Printing Company
P.O. Box 140, Celina, OH 45822