By Gary R. Rasberry
grasberry@dailystandard.com
Wrestling, like most sports, is one that is driven by momentum.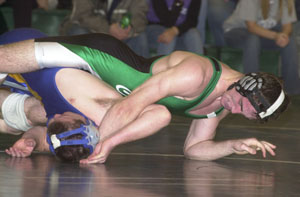 Give up the momentum, and it's hard to get it back.
St. Marys had that momentum in its first three bouts against Celina on Tuesday night, then lost it in a hurry.
The MatDogs went from down 16-0 after three bouts to winning the next nine bouts, eight by pin, to beat the Roughriders, 51-28, in Western Buckeye League action at Celina Intermediate School. Celina improves to 3-0 in the WBL as St. Marys loses in its first league match of the season.
Celina scored six of its eight pins in the first period and did not allow a St. Marys point in seven straight matches. Things did not look good at the start, though for Celina. The draw for the starting point came up 103 pounds, which meant Celina was going to see three straight defending WBL champions in the first three matches.
Roughrider senior Caleb Cisco started things out at 103 and made quick work of Tyler Thees, pinning the freshman in just 1:07. Josh Cisco came up next and tried to duplicate his older brother's feat. Celina's Andy Swain tried his best not to get pinned but in the end suffered a 17-2 technical fall loss to the younger Cisco.
Adam Maze stepped up at 119 and got another technical fall for the Roughriders, beating Cody Koesters 18-3 to put his team up by 16.
Celina stopped the drought when Patrick Bailey scored three points in the final period to decision Rusty Johnson, 7-3 for three team points.
"It was probably the worst place to start out for us," said Celina coach Joel Zacharias. "We got out of there without giving up 18 points (three pins). Then everybody kicked in."
The kicking in began with Nick Gray at 130 pounds, who took down Todd Lunz for the pin in just 53 seconds to cut the St. Marys lead to 16-9. Kiel Hawk waited until four seconds left in the opening period before finally getting Brandon Russell down for the referee's count at 135 points to make it 16-15. Cody Wagner, who is cousin to the Ciscos, gave Celina the lead for good at 140 with a 41-second pin on Kirk Gibson.
"It's nice to have it. You hope to have a little momentum going," said St. Marys coach Larry Gruber. "Once that momentum breaks and swings the other way, you get in trouble real quick."
Garrett Gray pushed the lead to 27-16 with a pin over Graham Hellwarth with 52 seconds left in the second period.
At 160, Kyle Knouff scored the fastest pin of the night for Celina, taking down Greg Luthman in just 31 seconds. Dan Knoth needed two periods before pinning Jacob Bright in 3:15 to make the score 39-16. Jantzen Hinton won at 171 with a pin over Aaron Dietz. St. Marys finally scored a point in the 189 match when Josh Luthman got a second-period takedown, but Trent Hellwarth recovered with a reverse and a pin in 2:56.
"It was up to the guys," said Zacharias. "They knew what they had to do out there. ... Everybody did their job tonight."
"We're kind of weak at some middleweight classes," said Gruber. "That's what's going to hurt us all year."
St. Marys ended the meet like it started with a pair of wins. Carlos Castillo faced freshman Mitch Miracle, who took over the 215 spot when Zach Mertz suffered an injury over the weekend. Castillo scored the quick pin of the night, handing Miracle his first varsity loss with a pin in 30 seconds. Travis Neal wrapped up St. Marys' night with a pin over Sam Eshelman in 3:44.
"We knew it was going to be tough going in," said Gruber. "It's about what we expected. I would have liked to see us win one more match."
"That heavyweight match could have went either way," said Zacharias. "He tried something and it didn't work. At least he tried."
Celina dominated the junior varsity matches prior to the main event, winning six of the seven matches. Getting pins for Celina were Nathan Chamberlain, Issac Niekamp, Steve Stoker, John Bonvillan and Jordan Davis. John Rhodes scored a major decision. The lone St. Marys win came from John Koverman.
A moment of silence was held before the match for former Celina wrestler Rob Eyink, who died on Monday. Eyink was the last MatDog to make it to state, finishing fifth in the 275-pound division in 2003.
Celina returns to action on Thursday when Kenton comes to town for a WBL match.