By Shelley Grieshop
sgrieshop@dailystandard.com
A 78-year-old New Bremen man was killed and his wife seriously injured Thursday afternoon when their car collided with a semitrailer on the east side of the city of St. Marys.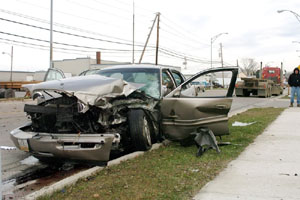 John A. Knapke, 12 S. Eastmoor Drive, was pronounced dead at Joint Township District Memorial Hospital, St. Marys, a short time after the 12:32 p.m. crash along East Spring Street.
His wife, Mary Ann, 77, was taken by CareFlight helicopter to Miami Valley Hospital, Dayton, where she was listed in serious condition this morning.
The driver of the semitrailer, Lynn Tingler, 42, of Wapakoneta, did not claim injury.
Sgt. Tim Eberle of the St. Marys Police Department told The Daily Standard the accident remains under investigation. According to Eberle, Knapke was driving a 2000 Buick Park Avenue north on Knoxville Avenue when his car was struck by the semitrailer traveling east on East Spring Street. Eberle said officers haven't been able to determine if Knapke failed to stop at the stop sign and flashing light at the intersection or if some other factor contributed to the crash. A yellow flashing light warns east/west traffic to use caution at the intersection, although those motorists have the right of way.
The safety of the intersection has been the subject of several city council meetings the past several years, said city Safety Service Director Mike Weadock.
"We've gotten letters from people on occasion about the intersection, but it doesn't meet ODOT's requirement for a street light," Weadock said.
State Route 29 used to go through the intersection but was diverted around the nearby hospital about 20 years ago, he said. And although several businesses along Spring Street, as well as recent construction traffic, have caused the amount of traffic to increase of late, the area traffic rate does not warrant a full traffic signal, Weadock explained.
City officials researched the intersection for crash data and found, as of March 2003, there were 10 accidents at the site during the previous five-year period. Three of those involved motorists who drove into eastbound traffic, similar to what appears to have caused Thursday's accident, Weadock said, adding that he had not seen accident reconstruction data from the recent fatal.
County Road 33A, the roadway that turns into East Spring Street, narrows substantially as it enters the city near Knoxville Avenue.
One complaint heard by city officials is the location of parked vehicles at Wally Schmidt Car Sales at the corner of Knoxville Avenue and Spring Street.
"There is a curb, the tree lawn, a sidewalk and then only about a foot distance to his (Wally's) lot," Weadock said.
If the car dealership parks vehicles in its right of way, at the furthest end of the lot, they could possibly stick out across the sidewalk, he said.
"We've had him go out and pull vehicles back. We've done everything but buy out the site distance," Weadock said, adding that wouldn't have prevented seven out of the 10 accidents in the last five years.
Sgt. Eberle said it's been several years since the police department has investigated a fatal crash within city limits.
Knapke's death marks the 11th traffic fatality this year in Auglaize County.