By Margie Wuebker
mwuebker@dailystandard.com
COLDWATER -- Ruth Dameron earned her nickname with thousands of tasty holly leaves, stars, hearts and candy canes during the course of more than 20 years.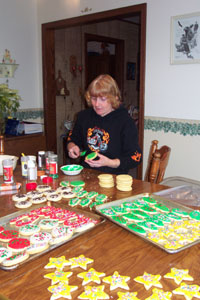 "The Cookie Lady" simply follows a holiday tradition her mother started years ago in Midland, Mich. After all, making cutout cookies and taking them to friends, neighbors and co-workers is one form of sharing that brings wide smiles to the faces of recipients and a deep sense of satisfaction to the ambitious baker.
The heavenly aroma of sugar cookies wafts through her East Elizabeth Street home as she spreads green icing across a round cookie. It quickly becomes an ornament with the addition of multicolored sprinkles.
"I make around 150 dozen cookies for the Christmas season," she says, momentarily looking up from her work. "My goal is to have 50 dozen baked and stowed away in the freezer by Thanksgiving. That gives me peace of mind. Otherwise I get too stressed."
Dameron uses a tried-and-true recipe that yields 13 dozen cookies after she quadruples the original ingredients. She prepares dough later in the day and allows it to chill overnight in the refrigerator. The next step -- rolling and cutting into desired shapes -- takes approximately 1 1/2 hours. "I've given out the recipe so many times," she says with a smile. "It is so easy and yet some people seem to have problems with the dough."
Dameron believes extra flour is the key. She liberally sprinkles the kitchen counter with flour before gathering some of the dough into a ball. An extra dusting of the white stuff precedes rolling with the process repeated until everything has been used.
"Dough tends to be a little sticky at first," Dameron adds. "But the addition of flour corrects that problem. My biggest challenge is keeping track of cookies after they come out of the oven."
Bill Dameron, head of housekeeping and linen services at Mercer County Community Hospital in Coldwater, considers himself a discriminating cookie connoisseur. Plenty of samples have crossed his palate in recent weeks.
"Somebody has to test them before the whole lot becomes Christmas gifts," he points out with a smile. "It might as well be me."
Ruth Dameron prefers to bake cookies one day and decorate them the next as the holiday nears. Earlier in the season, she carefully packs freshly baked ones in airtight containers and heads for the freezer. She manages to fit decorating sessions around her busy cleaning schedule at area homes and businesses.
"It is best to let frozen cookies warm up prior to decorating," she says. "Working over a baking sheet allows me to pour excess sprinkles back in the jar for later use. They create a pretty hodge podge effect."
She mixes frosting and adds appropriate food coloring until the proper shade materializes. Christmas green and brilliant yellow cause few problems, but true red continues to pose a challenge -- emerging anywhere from deep pink to vivid rose.
"I think the candy canes are my favorite but they tend to break quicker than the others," she says quickly filling the dining room table with decorated cookies destined for gift plates."I used to make wreaths until the cookie cutter broke. I haven't taken the time to replace it."
The Coldwater woman clips coupons and looks for grocery store specials in order to cut costs. She notes basics like flour, sugar and margarine tend to go on sale just before the holidays, making it an ideal time to lay in a good supply.
The mother of four and grandmother of two does not reserve cookie baking for the holiday season. She also makes up gift plates for Valentine's Day and Easter.
"I love seeing smiles on the faces of the people who receive my cookies," she says. "That is my gift and it makes the investment of time seem so unimportant."

Sugar Cookies

11ò2 cups margarine (3 sticks)
11ò2 cups shortening
4 cups sugar
8 eggs
4 teaspoons vanilla
4 teaspoons baking powder
4 teaspoons salt
10 cups flour

Mix everything together thoroughly except the flour. Then add the flour. Chill in the refrigerator overnight.
Heat oven to 400 degrees.
Roll dough out on floured table. You will most likely need to add more flour to your dough so it doesn't stick to your hands or table. Cut with cookie cutters. Place on ungreased baking sheet. Bake approximately 6-8 minutes. Makes about 13 dozen.
Phone: (419)586-2371, Fax: (419)586-6271
All content copyright 2004
The Standard Printing Company
P.O. Box 140, Celina, OH 45822