By Gary R. Rasberry
grasberry@dailystandard.com
MINSTER -- With both teams coming in with unblemished records, fans anticipated a close and tight game between Fort Recovery and Minster at the Middle School Gym on Friday.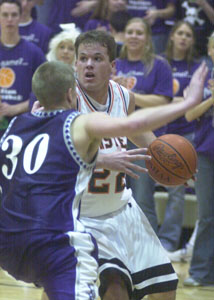 The fans got their wish, but Fort fans left a little unhappy after Minster ended the Indians' three-game winning streak with a 56-49 win. The Wildcats improve to 4-0 overall and 2-0 in the Midwest Athletic Conference while Fort Recovery drops to 3-1 overall and 1-1 in the league.
"We didn't think it could be one where anyone would get away. They would have their moments and we would have ours," said Tribe coach Brian Patch.
It was a game where both teams used their strengths to gain an advantage.
For Minster, it was their press defense. The Indians were forced into 18 turnovers on the night, leading to some open shots for the Wildcats on their end of the court. "We knew coming in we would have to handle the pressure," said Patch. "We had 18 turnovers, that's more than we want. A lot of those was because of their pressure defense causing those problems for us. We never got into the flow or rhythm of our offense."
"We were hoping as the game went on that it would come into play," said Minster coach Mike Lee. "Give their kids credit as much as our squad. I thought they played well in spurts. It wasn't a game of too many runs by either squad. It was your basic MAC league game on a Friday night."
For the Indians, rebounding played a big key. Fort Recovery outboarded the Wildcats 38-25 with a 15-8 advantage on the offensive glass. Both Travis VanSkyock (11) and Sean Kahlig (10) finished with double-digit carom performances.
The game began with a possible shootout taking place. VanSkyock hit several big shots early in the first quarter, scoring the first eight Fort Recovery points of the game. On the Minster side, Dane Sommer was on a hot streak, hitting two big three-pointers to score 10 points in the first quarter.
But the defense stepped up on Sommer through the second and third quarters. Sommer went into a cold spell, missing nine straight shots and going scoreless through the two middle quarters.
Minster, however, was able to keep itself ahead. Andy Beckman came up with several big treys in the second and third quarters and had 11 points through three quarters.
"You look at a kid like that where, I can't say that he struggled because he has played strong for us in a starting roll, but not really scoring much for us," Lee said of Beckman. "I took a quick look at the book and saw he was in doubles. That's a good mark of a basketball player, having a kid who doesn't quite succeed a whole lot offensively one night and bounce back the next."
Minster used quick scoring to start the third and fourth quarters to get a leg up on Fort Recovery. Justin Spillers hit a shot while getting fouled just seconds into the second half to push the 28-24 Minster halftime lead to 31-24. In the fourth, Beckman hit five straight points in a span of 1:20 to get the Wildcats up 43-36, slowing down another Indian rally.
Fort Recovery stayed close, never trailing by more than 10 points all game. With Minster playing with a smaller group, the Indians took it inside more when VanSkyock got additional pressure. Kahlig came off the bench and tallied five offensive boards to finish with 11 points in the game.
Late in the game, the Indians got to within five points with 1:34 left in the game, but had to foul to try and get the ball back. Minster took care of matters at the foul line, hitting 5-of-6 down the stretch.
"We talked to our squad. I think it was good for us to be in a situation where it was a tight game and how do we react," said Lee, whose squad had some easy wins in the first three games. "Basically in our first three (games) we haven't been in the situation in the entire second half where we had to do that. It was a good ballgame."
VanSkyock finished with 17 points to lead the Indians.
Beckman finished with 17 points to lead Minster while Sommer added 16.
Both teams return to action tonight. Minster is on the road for the rest of 2004 and the first couple games of 2005, staring with tonight's game at Newton. Fort Recovery looks to get back on the winning side at Fort Site Fieldhouse tonight with Mississinawa Valley.
Phone: (419)586-2371, Fax: (419)586-6271
All content copyright 2004
The Standard Printing Company
P.O. Box 140, Celina, OH 45822