By Margie Wuebker
mwuebker@dailystandard.com
ROCKFORD -- Christmas has come to the home of Russell and Annette Spindler with Santa Claus lights and whimsical snowmen. A wooden reindeer serves as front porch sentry keeping watch over a live Norwegian pine wrapped in lights and ribbon.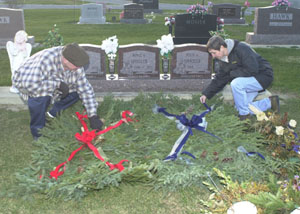 The couple continue to search for a white tree upon which to hang blue ornaments. Finding one would satisfy the holiday wish of Regis Spindler, their 16-year-old son who died Nov. 27 of Duchenne muscular dystrophy.
The genetic disorder that progressively weakens the muscles also claimed the lives of his older brothers -- Randy Sovine who died April 10, 1993, at the age of 13 and Royce Spindler who died May 16, 2001, at the age of 15.
"Regis wanted to live longer than his brothers and become a video game programmer," Annette Spindler says. "God granted the first part of the dream before calling him home."
The beige frame house at 607 W. Columbia St. is decked with beautiful memories of the brothers -- memories that bring smiles to the faces of both parents. "Sometimes it feels like the boys are still here with us," Russell Spindler says. "But we know they are together in a better place where none of them needs motorized wheelchairs to get around."
Muscular dystrophy apparently runs in his wife's family, claiming three uncles and then a first cousin at the age of 28.
"I have three brothers and a sister who has four boys and a grandson," she says. "None of them have Duchenne's. For some reason God blessed us with three sons who did."
Randy Sovine was diagnosed before the age of 3 after an aunt whose son was afflicted spotted familiar signs. Doctors warned there was a 50-50 chance any male offspring could develop the disorder while female offspring could be carriers. They predicted progressive deterioration likely would result in death during the teenage years.
The illness took a toll but he struggled to keep up with his studies. He had a flair for art, a passion for the Indiana University Hoosiers, an affection for spaghetti and compassion for his younger brothers who had problems walking. He knew it was only a matter of time until they, too, needed wheelchairs. Earlier tests indicated they also had the same form of muscular dystrophy.
He developed a cold and then pneumonia in the spring of 1993. Death came in a hospital intensive care unit surrounded by family.
"Royce was 7 at the time and Regis was 3," Annette Spindler says. "I remember getting Royce ready for bed one night not long after Randy's death. He looked up at me and asked 'Can I have blue flowers when I die?' That was the only time he mentioned death."
The two shared a bond that went deeper than mere brotherhood, racing their motorized wheelchairs up and down the street, taking regular "walks" to the library, rooting favorite NASCAR drivers and indulging in good-natured Ohio State-Penn State and Dallas Cowboys-Cleveland Browns rivalries. They attended summer camps sponsored by the Muscular Dystrophy Association and participated in Challenger baseball, a program for young people dealing with handicaps.
Royce Spindler, affectionately known to friends as "Boda" loved watching movies, singing, performing in school plays, reading about dinosaurs and eating nachos. Unable to compete in physical education like the other kids, teacher Larry Geise made him keeper of the whistle. Classmates voted him student of the year in eighth grade.
"Royce used to follow me back and forth as I mowed the lawn," Russell Spindler recalls with a smile. "I teased him about not helping with the work and even threatened to tie the lawn mower to his chair. He would laugh ... oh how I miss the sound of that laughter."
In May 2001, he developed breathing problems that also deteriorated into pneumonia. Death came in a hospital surrounded by loved ones in a hauntingly familiar manner.
Regis Spindler not only lost a brother but a best friend. There would be no more wheelchair races or daily trips to the library. He literally threw himself into homework and video games. Mom helped with the former and became a victim of the latter.
"Regis loved to win and he had a way of interpreting rules for his benefit," she says. "A good sport? Not really."
The teenager, who earned a science award, a student of the month certificate, honor roll ranking and umpire status in gym class, grew weaker in recent months but his spirits never waned. One piece of artwork conveys the thoughts he chose not to express verbally.
Annette Spindler lovingly unrolls the cream-colored paper that depicts three trees standing straight and tall. Their barren limbs reach upward into a beautiful cloud-strewn sky. Tears glisten in her eyes as she realizes the energy it took to draw as a classroom aide held the paper in place.
Relatives sent a tree for each funeral -- a spruce for the first and a decorative pear for the second. The Christmas tree on the front porch arrived sooner than anyone expected.
The Spindlers took their son to a NASCAR banquet the night after Thanksgiving. Excitement danced in his eyes as he chatted with drivers and fellow fans.
"We got home late and Regis laid out his clothes for the next day," she says. "I suggested he sleep in Saturday morning because the last days had been busy ones. I never dreamed he would take my words literally."
Passing his room the next morning, she instinctively looked to see whether the covers moved up and down in response to his breathing. There was no movement. He had slipped away during the night to join his brothers.
"We knew this day would come but that doesn't mean we were ready," she says. "Regis died in his own bed surrounded by all the things he loved."
Her husband nods in agreement and talks of dealing with the quiet. He laments never having purchased a video camera to record the good-natured teasing and the laughter.
"We have much to be thankful for this Christmas," she says. "God blessed us with three wonderful sons, time to enjoy them and beautiful memories that will last a lifetime."


The disease:

Duchenne muscular dystrophy (DMD), a genetic disorder marked by progressive muscle deterioration, was first described by French neurologist Guillaume Benjamin Amand Duchenne during the 1860s.
The cause seems to be the absence of dystrophin, a protein that keeps muscle cells intact. The onset typically occurs early in childhood between the ages of 2 and 6 years old.
The disorder gradually weakens the skeletal or voluntary muscles including those in the arms, legs and trunk. Nearly all children with DMD lose the ability to walk at some point between the ages of 7 and 12. Cardiac and respiratory muscle involvement often occurs during the teenage years. Survival beyond the early 30s is rare.
There is no cure at this point for the condition that primarily affects boys who inherit the disease from their mothers. Women can be carriers but they rarely exhibit symptoms.
Early symptoms include generalized weakness and muscle wasting first affecting the muscles of the hips, pelvic area, thighs and shoulders. A preschooler with DMD may appear clumsy and fall repeatedly. He soon has trouble climbing stairs, getting up from the floor and running.