By Ryan Hines
rhines@dailystandard.com
It's rare that a coach turns to a sophomore to make big plays at the end of a close game.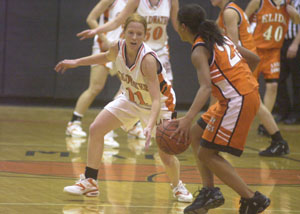 That's not the case at Coldwater.
Coldwater sophomore Kendra Robbins certainly didn't play like an average sophomore on Tuesday as she capped a career-best performance by making two free throws with 1.5 seconds left in the game to guide the Cavaliers to a 49-48 win over Elida in a nonconference affair.
"I had a lot of confidence with Kendra going to the line because we've been a pretty good free-throw shooting team this year," said Coldwater head coach Nick Fisher. "We worked really hard on shooting free throws over the summer and I think that really showed tonight. We, as a coaching staff, are always talking about how important free throws are and that was certainly true tonight."
The Cavaliers improve to 6-2 on the season while Elida falls to 5-4. Robbins was clearly the best player on the floor for either team and she played like it down the stretch. The Cavalier sophomore hit 7-of-10 shots from the field and hit 4-of-5 from the free-throw line for a career-best 20 points. Robbins scored nine of her game-high point total in the fourth quarter, including seven markers in the final three minutes of action.
Trailing 46-40, Coldwater's Renee Hemmelgarn hit a short jumper and Robbins connected on a power move to the basket to pull the Cavaliers to within two points at 46-44, forcing an Elida timeout with 1:43 left to play.
The Bulldogs had a chance to extend their lead, but Kelly Warris missed the first of a one-and-one opportunity. Free throws were a nemesis for Elida all night long as the Bulldogs converted on just 3-of-14 from the charity stripe.
"In big games, missed free throws always come back to haunt teams," said Elida head coach Sue Skinner. "That's something that we've been working on and it's one area that we really need to get better at. We've been up and down this season in that area and in tight games you have to be able to be a good free-throw shooting team."
Coldwater then worked the ball around the perimeter on its next possession and found Robbins on the wing for a three-pointer which tickled the twin giving the Cavaliers a 47-46 lead with 37 seconds left on the clock.
Following a timeout, Elida scrambled offensively but Carla Warren chased down a loose ball and found an opening in the Coldwater defense and drove to the basket for a layup putting the Bulldogs back on top, 48-47, with 11 seconds remaining in the game.
Coldwater moved the ball to halfcourt before calling timeout with hopes of setting up a potential game-winning play.
The inbounds pass went to Amanda Harting at the top of the key who then found a wide open Robbins in the corner. Robbins caught the ball and put up the shot and the shot was off the mark, but Robbins was fouled on the play and knocked to the floor by Warris sending the sophomore to the line with the Cavaliers down by one point with just 1.5 seconds left on the clock. Robbins calmly sank both free tosses giving Coldwater a 49-48 lead.
"I thought that she smacked my arm, she was coming at me and I was going to take the shot and luckily I got fouled," said Robbins. "I wasn't nervous going to the line because I've shot free throws pretty good all year. My shot felt good in warmups and it carried over into the game and my teammates did a good job of getting me the ball."
"We're a good free-throw shooting team at right about 75-76 percent," said Fisher. "I thought that Amanda did a good job of pump faking and finding Kendra in the corner with a good pass."
"I've been impressed with the Robbins girl each time that I've seen her play and we knew that she was going to get the ball at the end because she is a key player and she just stepped up and did what her team needed," said Skinner.
Skinner refused comment on the foul called on Warris stating, "no comment."
Elida's Elise Jenkins caught the ensuing inbounds pass at halfcourt and turned to fire a desperation three-pointer, but Hemmelgarn was in excellent position and blocked the shot as the horn sounded.
In addition to Robbins' game-high 20 points, teammate Tasha Stucke added 10 points. Warris led Elida with 15 points while Warren and Rosie Paris added 12 points apiece.
Coldwater is back in action on Tuesday at the Palace against undefeated Ottawa-Glandorf.
Phone: (419)586-2371, Fax: (419)586-6271
All content copyright 2004
The Standard Printing Company
P.O. Box 140, Celina, OH 45822