By SEAN RICE and LANCE MIHN
newsdept@dailystandard.com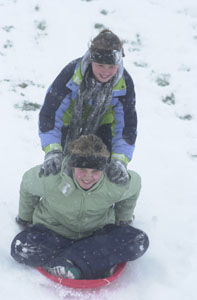 A level 2 emergency was declared for Mercer County early this morning, after the region received its first major snowfall of the season.
The emergency designation does not prohibit residents from traveling on roads, but is a warning of hazardous road conditions. "We have cars in the ditch everywhere," Mercer County Chief Deputy Sheriff Tim Fink said this morning.
Under the level 2 emergency, residents are advised not to travel the roads unless absolutely necessary. Also, employers should be contacted before reporting to work, he said.
The sheriff is responsible for informing residents and issuing the emergency declaration. Mercer County Sheriff Jeff Grey made the decision shortly after 4 a.m. today.
A level 3 emergency has been declared in Logan, Darke and Shelby counties. In that event, residents are restricted from traveling roadways except for emergencies.
In Auglaize County, the sheriff's office does not inform residents of road conditions with the common emergency ranking system.
"We have enough faith in our citizenry to know they will stay home when they shouldn't be out," Lt. Steve Stienecker said.
But roads in Auglaize County may be in worse shape than Mercer County.
An Ohio State Highway Patrol trooper from the Wapa-koneta Post said Interstate 75 is down to one lane and traffic is moving at 25 to 30 mph. Also, he reported several troopers were unable to travel to work this morning.
Auglaize County has had 12 inches of accumulated snow since the storm began Wednesday, including six inches today as of 9 a.m., according to the Auglaize County post of the Ohio Department of Transportation (ODOT). Severe snow and ice were being reported and several roads were impassable because of drifting snow.
Mercer County had seen 10 inches of accumulation according to the Mercer County ODOT garage, including two inches today. Wind was blowing up to 15 miles per hour in both counties and blowing snow was a major problem.
The storm dumped as much as two feet of snow in parts of southwest Ohio and from 6 to 16 inches elsewhere. The National Weather Service said the rain would turn to snow today and another 6 to 8 inches was possible.
Forecasters predicted temperatures would dive into the teens through the weekend. Temperatures could approach zero in some areas Friday night and not rise above freezing until Monday.
'I don't believe we've set any records yet,'' Al Randall, a forecaster at the National Weather Service's Wilmington station, said Wednesday night. ''The only one in jeopardy is Dayton, where they had 12.9 inches in 1978. It's not close yet -- about 7.3 inches -- so we have a ways to go. That record probably won't be broken today, but it will be close.''
At least three deaths on Wednesday were attributed to the storm across Ohio.
Janet Akers, 51, of Stoutsville, was killed when her vehicle slid on ice, rolled over and hit a utility post, said Sgt. Darrin Blosser of the State Highway Patrol's Lancaster post.
A man identified by the Cuyahoga County coroner's office as Edward Whelan, 35, of North Olmsted, was killed in a two-car crash in Auburn Township, Geauga County Sheriff's public information officer John Hiscox said.
James Close, 17, of North Lawrence, was killed when he lost control of his vehicle on a snow-covered road and collided with another vehicle in northeast Ohio's Tuscarawas Township, the patrol's Canton Post said.