By Shelley Grieshop
sgrieshop@dailystandard.com
Candy fell like rain in the Parkway Schools Vocational Agriculture room as the entire Spanish II class scrambled to the floor to fill their bags and pockets.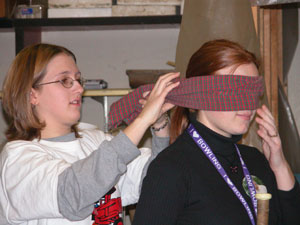 It had taken nearly two frustrating rounds of baseball bat swings before the high school students were able to puncture the candy-filled belly of the colorful dog piĝata.
"Here you go," Spanish teacher Ann Marie Imwalle yelled to the students as she showered them with even more pieces of candy from a nearby box.
As the students returned to their classroom, Imwalle prepared for her next class by hanging a new piĝata so the next wave of teens could also experience the Mexican Christmas tradition.
While trading off M&M's for chewing gum, the students eagerly volunteered some of their own family traditions. "On Dec. 24th, our church has two services. We go to my aunt's and eat food and watch 'A Christmas Story.' Half of us go to the first service and half to the next one," says Kristin Nuttle.
Nuttle says her extended family means there will be 30 to 40 people "crammed" into the house.
"That's the most fun of it," says the high school sophomore, as her classmates nod in agreement.
Ashleigh Garrison, a junior, says Christmas Day brings out the child in everybody at her house.
"We all race to get done eating so we can open presents," she says to a roar of laughter.
Andrea Vasquez says her family has a unique tradition that combines fellowship, food and Christianity and starts 12 days before the holiday.
"Every day our family goes to a different relative's house," Vasquez explains.
Two people jointly hold a baby Jesus statue as another person approaches, kneels and takes a piece of candy from the nativity display, she says. Following the ceremony, the families share dinner together, the sophomore adds.
And just as it's depicted in the classic movie, Hannah Ford's family last year ate their Christmas meal at a Chinese restaurant.
"Usually we get together with my dad's side. He's Jewish, but we don't do the Menorah or anything," says the sophomore. "We do a gift exchange, white elephant like, and then go eat."
Kendra Ratliff says eating, eating, eating is what Christmas is all about in her house, and women seem to get the short end of the stick.
"At 12 o'clock we eat dinner at grandma's. It takes four hours, yes four hours. It's a big meal," Ratliff says. "Afterwards, the guys watch NASCAR reruns and the women clean up."
Gifts are then opened, she says, and dessert is served (you wouldn't think anybody would be hungry). Then once again, the women take to the kitchen to mend the mess.
"Then we watch 'A Christmas Story,' " she says, as the class giggled, realizing the popular movie is a staple in nearly every one of their homes.
Eric Shrider's mother and her family get together every year and make "over 500 Christmas cookies," he says. "And they hand them out to all our cousins."
When asked what they thought was the most common smell of Christmas, the students overwhelmingly echoed "cinnamon."
"As soon as I get home from school and smell cinnamon in the house, I know Christmas is getting close," one student added as the school bell rang and talks of Christmases past continued down the hallway.