By Janie Southard
jsouthard@dailystandard.com
Winter greenery has been popular since people thought the sun was a god and ate foliage to keep up its strength. The custom of Christmas trees in the house was a natural transition, even though Americans as late as 1840 shunned evergreen inside as pagan symbols. It was a few decades before Christmas trees caught on.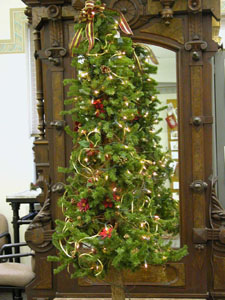 The Puritans considered Christmas sacred and early American leaders made any non religious celebration illegal.
Christmas trees first appeared in the 1500s in Germany and it was from Germany that Prince Albert came in 1840 to marry England's Queen Victoria.
During the 1841 holiday season the prince had small evergreens placed in Windsor Castle for his wife's enjoyment. Queen Victoria had the trees decorated with ribbons, flowers, fruit and various glass ornaments.
After that Americans, in an effort to keep up with fashions in England, took the Christmas tree to heart. Christmas trees are now a staple in the holiday season, although artificial trees have outsold live trees since 1991.
Many parts of Christmas trees are edible, the inner bark for example. It can be dried and ground into a powder and then used as a thickening for soup or mixed in with bread grains.
Tips of the young shoots can be brewed into a tea.
Although the biggest selling Christmas song of all time is "White Christmas," many find pleasure in the old, traditional Christmas carols, which were introduced to church services by St. Francis of Assisi.
"I Saw Three Ships" was written in the Middle Ages and depicted the skulls of the wise men being taken to Germany; however, a more popular version is the one still heard today telling the story of Mary and Jesus traveling to Bethlehem.
"Good King Wenceslas," the lyric written in 1853 to the tune of a 1582 Swedish church song about spring, tells of a Bohemian king looking out his castle window at the peasants gathering food and wood.
Convinced of the value of education, Wenceslas, a Christian, was a man before his time when he smuggled teachers into the castle at night to teach him to read the Bible. Unfortunately, after he had reigned for four years (929 AD) until he was 22 years old, his brother Boleslav tricked him into going to a religious ceremony. At the chapel, Boleslav trapped him, and his men stabbed Wenceslas to death.
"A Visit From St. Nicholas" known now as "'Twas the Night Before Christmas" first appeared in print in 1823 in the Troy (New York) Sentinel newspaper and was credited to an anonymous writer. In 1837, a biblical scholar and poet Clement Moore allowed the popular poem to carry his name as author. In 1844 he put the poem in his own book called "Poems."
However, there is a controversy over the authorship putting forth Henry Livingston, a poet long dead before the St. Nick poem was published, as the true author. When his children saw the poem published they immediately recognized the words their father had written and read to them hundreds of times.
Proving Livingston's ownership has been difficult due to fires that destroyed original papers on both sides or papers simply lost.
At one point it was put forth that Livingston's horses were named Dasher, Dancer, Prancer, Vixen, etc. and that could still be true; however, Livingston only referred to them in writing by description and not by name.
It is known that the last two reindeer were originally called Dunder and Blixem and that Clement Moore changed the last to Blitzen. But he claimed the newspaper got it wrong in the first place.
The controversy is nearly two centuries old and will probably never be solved.
But, the sentiment and words will forever ring a holiday truth: Merry Christmas to All and to All a Good Night!