By Margie Wuebker
mwuebker@dailystandard.com
Local ophthalmologist Dr. John Wilding is among the first in his field to begin using two revolutionary advances in cataract surgery -- a lens that helps many patients see better without the aid of glasses and a new removal system that washes away the clouded lens in preparation for a new implant.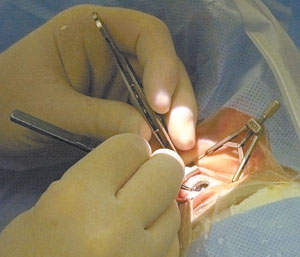 "They represent major advances in the area of cataract surgery," Wilding says. "Basically we have been doing nearly the same routine surgery for 25 years. Now the process has become sophisticated to the point of predicting what vision can be after surgery instead of adjusting the eye and then compensating with glasses."
In a normal eye, light passes through a clear lens and becomes focused on the retina. In its earliest stages, a cataract or clouding of the lens may not cause a vision problem since it affects only a small part. However, it may grow over time clouding more of the lens and making it harder to see.
"The Crystalens» represents the final step," Wilding says. "It brings all the fruits of our labor together. When you tell patients all they need is one surgery -- that they don't need glasses -- how good is that?"
The new silicon lens, approved by the U.S. Food and Drug Administration in November 2003, is the result of 14 years of research and development. First used in Europe for several years, the lens flexes as the eye muscles adjust and positions itself for correct viewing range from near to distant. Wilding, who is associated with Ohio Vision LLC, first heard about the new lens while attending a national eye conference in Anaheim, Calif. earlier this year. Amazed at the results shared during the presentation, he wanted to offer his patients, "the value of seeing young and essentially returning to a full range of vision from near to distant."
He immediately signed up to learn more with his first implantation taking place in July. He now performs the implantation surgery in area hospitals, including Community Hospital, Coldwater, and St. Marys Joint Township District Hospital.
Research, he said, indicates more than 90 percent of patients undergoing the surgery can see well enough to read without glasses. FDA studies indicate about 94 percent emerge with 20/40 vision or better.
Wilding says the new lens has more flexibility than the older replacement lens, which was fixed resulting in more sight range limitations. The Crystalens» is small so the eye muscles can manipulate it to adjust to multiple ranges of sight. It also can be used as an alternative to other surgeries such as LASIK.
Anna-area resident Barb Doseck, one of the first patients to undergo the procedure locally, describes the outcome as "wonderful," before enthusiastically adding, "I don't need to use my glasses." Others have reported being able to read the paper, including stock market listings, without visual assistance.
The new procedure is more expensive that regular cataract surgery, with Wilding initially comparing it to going from coach seating to first class on an aircraft. It is nearly double the cost of standard LASIK surgery, which runs about $1,700 per eye. Medicare does not cover the cost of the new lens at this point, but Wilding believes that could change in the future.
The ophthalmologist has also added new equipment called the Infiniti Vision System, which provides a unique alternative to the current method of using ultrasound energy to break up clouded lenses. The device offers three options including pulses of warm liquid to break up and wash away the natural lens. The new technology may reduce the risk of complications, according to Wilding.
"Ours is a visual world, " he says. "We are finding that people are having cataracts removed sooner -- before age 65. People want surgery sooner due to their active lifestyle and the use of things like computers."
Scientists believe aging, smoking, diabetes and excessive exposure to sunlight may be factors in the development of cataracts. They can also develop soon after an eye injury or even years later. The most common type is related to aging and more than half of Americans age 65 and older develop one. The condition affects men and women equally as well as all races and ethnic groups.
Although excited by the new developments, Wilding points out the Crystalens» is not for everyone. Sometimes people with really poor vision cannot be helped by the surgery. Additionally, patients with macular degeneration and diabetes do not make good candidates. Patients with high astigmatism may require some form of glasses following the procedure.
Ohio Vision has offices in St. Marys, Celina, Sidney and Bellefontaine.