By Shelley Grieshop
sgrieshop@dailystandard.com
Beth Dicke remembers the ridicule, the rude remarks that seemed to follow her through the halls of her high school when she found out she was pregnant three years ago.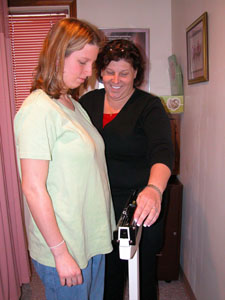 "I was being judged and no one even knew the circumstances," says the 18-year-old, now a freshman in college.
Dicke's mother, Candice Dicke, said it was a heart wrenching time for the St. Marys family who together made the choice to contact Harbor House in Celina.
"Beth was only 15 and we wanted her to have a chance at a good future," Candice Dicke says.
In the end the St. Marys high school graduate chose to give her baby boy up for adoption. The experience at the Celina-based maternity home made her face reality, she says. "It was the first time I was ever away from my parents," she says. "I grew up really fast."
Karla and Doug Eberle operate Harbor House and live with the pregnant clients who arrive on the doorstep of the brick home on Fayette Street. The state-licensed maternity home this week will mark its 10th anniversary at the Celina location. To date the Eberles and their staff have counseled nearly 600 clients.
The Eberles provide a strict Christian atmosphere for the girls while taking care of their physical and emotional needs. The young ladies are given the information they need to make the personal decision of giving up their child for adoption or parenting themselves, Karla Eberle says.
"We're seeing the majority keeping their babies at this time," she adds.
Due to the holiday season, there is currently only one resident, a 17-year-old girl, living in the home with the Eberles and their own five children, ages 8 to 17.
Harbor House is a member of the Ohio Christian Coalition of Maternity Homes that includes 11 chapters across the state. Only three of those, including Harbor House, accepts minors.
The Celina home has three divisions: the in-house maternity program; Elizabeth Pregnancy Services, an outreach program that offers parenting classes, pregnancy tests, clothing needs and other resources in the community to clients in or outside the home; and Harbor Christian School, a program that educates the minors who live in-house.
Harbor House clients are finding the Eberles through a variety of resources, including the Internet. Calls have come in recently from Idaho, Illinois and Maryland, Karla Eberle says. Some are referred to maternity homes or resources closer to their area, but the door is always left open for those who need it, she adds.
One former client, Holly Hutchins, came to the home in 1993 as a pregnant 16-year-old and placed her child for adoption. She now lives in Ashland with her husband (an architect) and their child. She recently applied to serve on the board of directors at Harbor House.
Hutchins' story is one of many success stories the Eberles love to share. They know there is a need for girls who have nowhere else to turn, like Mallory Reggins, now 20, who found herself pregnant following a rape in Columbus in 2003.
"I found out about Harbor House when I was going through the phone book looking for someone, some place that could help me," says Reggins of Columbus, who delivered her child in February.
Reggins, a sophomore at Capital University, says she lived with "her family away from home" for three months before giving her child up for adoption and returning to college.
"After the rape I was determined to go on with my life but I needed someone I could trust to handle the adoption part," she says. "They also gave me the emotional support I needed during those tough times."
The entire experience has led her to pursue a degree in social work, she says.
Candice Dicke says she used to volunteer time at Harbor House long before her daughter became pregnant.
"I never thought I would someday use the services they provide," Dicke says. "But when my daughter began throwing up for three days in a row and refused to admit she was pregnant, I knew it was time to call Karla."
"Tempers flared," at first, she says. Beth's friends tried to talk her into staying at home and keeping the baby, Candice Dicke says.
"At 15, a baby is cute. Her friends told her it would be fun to dress it and take care of it," Candice Dicke says.
She calls it a "God moment" when her daughter made the decision to place her child for adoption. It hurt her, too, to think about giving away a grandchild, she says.
"But at that time I had to put on my parent hat. We laid out the reality of the situation. If she kept the child, she would need to continue school and work. I asked her, 'Who would raise your child?' She wouldn't have been able to do it herself."
When the child was born, the adoptive parents she chose came to the hospital to be with her. A bond formed between the families, and when Beth graduated this spring, the couple not only attended the ceremony but gave her airplane tickets to Pennsylvania so she could spend a week with them and the child. And she did.
Beth Dicke hopes to stay in touch with her son's adoptive parents. She also intends to finish school, get married and have a family of her own someday. She considers herself lucky to have found the support she needed at a time in her life when she felt lost.
"I wish girls everywhere would understand that getting pregnant is not all sugar and pie," says the mature-sounding teen. "You have to keep your head up and if you make the wrong choice and get into trouble, make something good come out of it. Ultimately, it comes down to choices."