By Margie Wuebker
mwuebker@dailystandard.com
ST. HENRY -- Albert Jutte figures he learned nearly everything there is to know about winter weather as a kid growing up in Mercer County.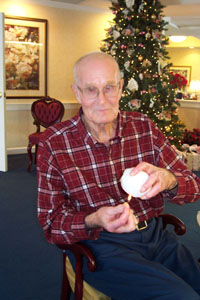 The former Fort Recovery man has gone through three books of matches and several dozen snowballs proving his point to fellow Gardens at St. Henry residents.
Clad in a red plaid shirt and dark blue trousers, he steps outside the front door and plucks a handful of snow from along the sidewalk. He returns to the living room kneading the white mass into a ball.
Jutte strikes one match and holds the resulting flame close to but not touching the snowball that holds a nice impression where his thumbs met during the shaping process. The flame dances and the snow turns black -- a sure sign that it is going to take some rain to speed melting of the 13 to 16 inches blanketing the ground.
"This is what you call a dry snow," he says matter of factly. "There isn't much moisture in it. See my hands aren't wet and the snowball shows no sign of dripping. Wet snow that drips in the warmth of a flame will melt on its own; this stuff needs rain and warmer temperatures in order to disappear." He breaks off bits of snow and allows them to drop to the turquoise carpet. They lay on the surface at his feet gradually evaporating but leaving no telltale trace of moisture.
"I learned all about weather from old Bean Goettes going on 70 years ago," Jutte says. "He was a stock buyer from way back and I wondered about his sanity as he demonstrated how to tell the difference between wet and dry snow. I listened to every word that old man spoke and never forgot a thing. I've got a mind like an elephant."
Jutte watches as visitors arrive clad in heavy coats, gloves and boots. Most call out "Hello Albert" and he returns their greeting heartily. They have come to expect his quick smile, occasional teasing and frequent jokes. Many have watched his snowball trick with interest or seen the remnants of past experiments outside -- black-spotted orbs with spent matches embedded.
"This is my kind of weather," he proclaims. "It can stick around until Jan. 1 and then we'll find out what the next three months have in store."
Goettes always warned impressionable youngsters like Jutte "The first three days of January rules the first three months of the year."
Bitter cold occurring Saturday, Sunday and Monday could mean keeping heavy coats and long underwear close at hand for the duration. Mild temperatures on the other hand would herald welcome news for winter-weary residents. Beware of precipitation on New Year's Day because it does not bode well for the coming weeks.
"If we get precipitation of any kind come Saturday that means above average precipitation January through March," Jutte says. "Will it come as rain or snow? That's for Mother Nature to know, and the weather folks to find out."
He shares a final bit of weather trivia from the old man who died long ago and whose words remain indelibly etched in the mind of at least one protege.
"Regardless of how cold it gets in February, go to the south side of a building and you will find mud," Jutte says. "You won't have mud up to your knees, but you will have traces on the soles of your shoes. Wipe your shoes before returning to the house or Mom will have your hide."
Phone: (419)586-2371, Fax: (419)586-6271
All content copyright 2004
The Standard Printing Company
P.O. Box 140, Celina, OH 45822