By Margie Wuebker
mwuebker@dailystandard.com
Mendon firefighters came to the aid of one of their own early Tuesday morning when fire destroyed a mobile home along Deep Cut Road.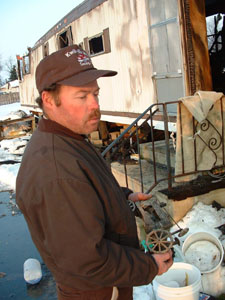 Kevin John, a 10-year member of the department, got up around 4:30 a.m. to check on a woodburning stove at the front of the trailer. The smoke detector went off several minutes later.
"I smelled electrical wires burning and headed down the hall to investigate," he said. "I could see a glow coming from the back bedroom and the next thing I knew flames were chasing me out the door."
Chief Dennis Clay told The Daily Standard the trailer, located at 8361 Deep Cut Road northeast of Mendon, was fully engulfed with flames shooting out the back windows as fire trucks arrived on the scene.
John, clad only in pajama bottoms, ran several hundred feet to his mother's home to call for assistance. He later found a warm coat and two pairs of boots in his pickup truck. "They are the only things I have left," John said in a voice choked with emotion. "I lost everything -- my wallet, my money, my John Deere tractors, my firefighter toy collection. All of it has been reduced to ash or twisted metal."
John purchased the trailer last spring and upgraded the fuse box as well as the wiring during the ensuing months. He had been using an electric heater in the rear bedroom to prevent pipes from freezing.
Clay believes the fire started near the heater and spread quickly, adding the $15,000 to $20,000 loss is covered by insurance.
"I wouldn't be here today if I had been in bed asleep," John said. "The flames spread so fast the smoke detector might have been the last sound I ever heard."
A total of 15 firefighters and four trucks responded with Rockford Fire Department providing mutual aid. They remained on the scene approximately two hours with Mendon sending personnel back two more times during the morning when flames rekindled sending smoke skyward.
"We spend a lot of time helping other people in their time of need," Clay said. "This time it was one of our own and that makes for an unusual experience."
This marked the second time in 26 hours that both departments were called to a house fire. The first occurred at 2:30 a.m. at a vacant house along state Route 117 between Tomlinson and High roads. The owner, Dennis Overley of Celina, reportedly stored some antiques there.
A neighbor spotted the home ablaze across a farm field and summoned the Mendon department. Clay again called Rockford for mutual aid with a total of four trucks and 24 firefighters responding.
The blaze apparently started in an unattached shed and spread to the vacant residence. An investigation into the cause is continuing, and Clay has not set a loss estimate as yet. He did not know whether Overley had insurance on the structure and its contents.
Weather conditions posed a challenge at both fires as water brought in by tanker from Mendon quickly turned to ice when sprayed on the burning structures. Deep snow in the driveway and around the house added a new wrinkle for those responding to the Monday morning blaze.
Phone: (419)586-2371, Fax: (419)586-6271
All content copyright 2004
The Standard Printing Company
P.O. Box 140, Celina, OH 45822