ST. MARYS -- The St. Marys Roughriders continued their strong start to the basketball season with a hard-earned 59-56 victory over the Minster Wildcats Tuesday at McBroom Gymnasium.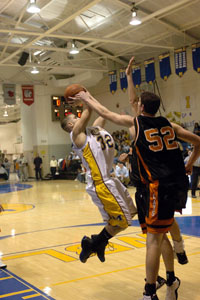 St. Marys improves to 3-0 on the year while Minster falls to 5-1.
The game was by no means a pretty affair, and it had all the flow of a shallow creek during an August drought, which is to say none. Turnovers and fouls were the culprits, as the two teams committed a combined 34 miscues and were whistled for 41 fouls.
The result was a ragged game, but the Roughriders were up to the task and out-uglied the Wildcats.
The key to the win for St. Marys was a decisive run early in the third quarter. Down by four after a bucket by Minster's Justin Spillers opened the second half, the 'Riders went on a 14-2 run to take an eight-point lead late in the period. Deron Steinke started things with his lone basket of the night, and Tom Burke followed with a three-ball. After a Minster bucket, four straight 'Riders tallied points, ending with a conventional three-point play by Ross Quellhorst.
The hosts widened their lead to 10 points midway through the final stanza, but the Wildcats came storming back.
A trifecta by Zak Boeke and a turnaround jumper by Andy Beckman trimmed the lead to five, and the visitors later pulled within three after another Beckman jumper.
Despite some woeful foul shooting, the 'Riders built an eight-point lead with under a minute remaining, but the Wildcats still wouldn't quit. Dane Sommer drove the lane for two and Boeke followed with another three-pointer to draw the 'Cats to within three with 37 ticks remaining.
After the teams traded foul shots, Minster had one last chance to send the game to overtime, but Alex Stricker's off-balance three-ball at the buzzer sailed wide.
Offensive rebounding keyed the 'Riders' third-quarter rally, as the hosts pulled down five boards on the offensive end that (Continued from page 1B)

led to second chance points.
"We had not been doing a very good job of rebounding in the first couple of games," said St. Marys coach Josh Leslie. "We have guys that are athletic enough and we've got some size with Adam Johns where we should be able to get on the glass. That's something we've lacked at times but we did a better job of it tonight."
Minster coach Mike Lee thought both teams' defensive intensity contributed to the pace of the game.
"There just wasn't any flow to this game whatsoever, and that's a credit to both teams defensively," said Lee. "I thought this might be a game where there‰d be more points put on the board from knowing the styles of both squads. We battled and battled but just ran out of time, and to St. Marys‰ credit they did what they needed to do with clock management in the last few minutes."
Boeke and Johns led their respective teams with 16 points apiece. Two more Riders hit for double digits, as Wes Clark finished with 13 and Ross Quellhorst added 10 in gaining high praise from his coach.
"Ross is one of those guys that's invaluable, because if he plays two minutes he's fine and if he plays 32 minutes he's fine," said Leslie. "He understands the concept of the team and that's carried over to the way he plays. He's willing to do all the little things, and you can really say that about a lot of our guys. It's a pretty unselfish group."
St. Marys returns to action Thursday when it travels to Parkway, while Minster will travel to Putnam County for a Sunday game with Ottoville.
Phone: (419)586-2371, Fax: (419)586-6271
All content copyright 2004
The Standard Printing Company
P.O. Box 140, Celina, OH 45822