By Shelley Grieshop
sgrieshop@dailystandard.com
ROCKFORD -- Rockford Fire Chief Ralph Rhoades took a slow puff from a stubby cigar as he watched one of his crew climb the roof of a smoldering home recently.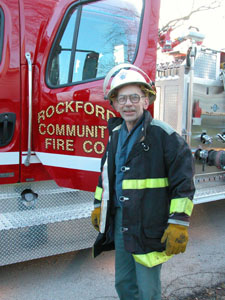 Rhoades and his R.G. Dunn cigars are a familiar sight in northern Mercer County. The slender 78-year-old Mendon native proudly lays claim to more than 61 years of firefighting -- 37 of those years as chief of the Rockford Fire Department.
He admits he does a lot more instructing these days than climbing at fire scenes.
"At times you'll find me on a roof, although I'm not as active as I used to be," he says. "But I hold my end up."
It's not unusual for volunteer firefighters to commit longterm, says Gerry Robinson, chief deputy at the State Fire Marshal's Office in Reynoldsburg. However, statistics on years of service by volunteers are not tracked in Ohio, he adds. "I can't say if that's a record, but it sure is a long, long time," says Robinson, who has 35 years of firefighting under his own belt. "In any case, guys like Ralph are a real blessing to their community."
Rockford's village administrator, Jeff Long, agrees.
"Ralph has brought our department together under his leadership. His experience and pride, and gung-ho attitude if you will, gets younger firefighters into the program," Long says. "It also brings out the best in the veterans."
It was in his mid-teens that Rhoades first donned a fire suit at the Mendon firehouse. Later he served under Rockford Fire Chief Bob Lloyd, who gave him lessons on firefighting as well as his daughter's hand in marriage.
Rhoades became his father-in-law's successor in January 1946.
A lot of things have changed in the firefighting business. Rockford started with one truck crammed into a small city building, he says. Today the department boasts three pumper trucks and a tanker in a much roomier structure downtown.
"Back then, if we were lucky, we had a pair of boots and an old raincoat. Now we have full gear with oxygen tanks," he says.
The most dreaded calls are those from the schools or, even more frightening, one of the two nursing homes in his district, he says. Fortunately, Rhoades says, the department's never handled a serious fire at any of those locations while he was at the helm.
The Rockford Fire Department has 24 firefighters, including five junior firefighters in training. Like other area departments, it's not just fires that disrupt their lives day and night. For example, when the St. Marys River overflows its banks, an issue the village has dealt with for years, the fire department provides sandbags and manpower.
"It gets harder and harder to get guys who are available during the day," says Rhoades, a father of two and grandfather and great-grandfather to 13.
He's paid $250 a year for the job and also serves on Mercer County's 911 and Homeland Security committees. Each of his firefighters get $5 the first hour on scene and $3 for each additional hour per run. No one's getting rich on it, he says.
"I guess it helps pay for shoes and clothes ruined through the years," he adds.
Rhoades' down-to-earth personality is comforting to fire victims and his experience a plus to insurance investigators. He must find the cause of each fire (or ask the state for help) and put a dollar amount on the damage.
Each run by his department is logged and an incident report must be made, he says.
"Sometimes it takes longer to do the paperwork than to put the fire out," he laughs, as he scrolls through past reports of grass fires and oil leaks, complete with the name of each firefighter present that day.
A pager rests snugly on his right hip; two emergency radios stand ready by his back door. His wife, Dorothy, swears the pager has a mind of its own, only sounding when the couple sits down to eat supper or is resting comfortably in bed.
"And it always goes off when we're getting ready to go somewhere," Dorothy Rhoades says shaking her head. "When he comes back, I can smell him before he hits the back door. That stuff (smoke) sticks with you."
A large table scattered with puzzle pieces is visible in the family's den, evidence of one of his spare-time hobbies. He retired seven years ago from his own auto body shop business but now works on antique cars including his own prized red El Camino.
Fire calls have dropped in recent years, he says, guessing the fire prevention talks at school may be paying off. That's good news, he adds. But reality tells him his pager won't be silent long, and soon he'll grab his radio and cigar and be on his way once again.
"I'll stay with this as long as my health holds up," he says. "I'm a firefighter, that's what we do."