By Shelley Grieshop
sgrieshop@dailystandard.com
A new traffic safety plan by the Ohio State Highway Patrol (OSHP) may have helped decrease fatal crashes statewide in 2004, but not in the Grand Lake St. Marys area.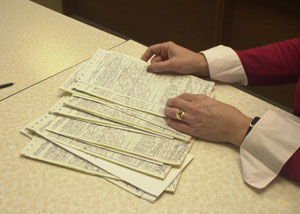 The new strategy, which resulted in fewer traffic tickets issued by troopers, also resulted in considerably less revenue for both Mercer and Auglaize county court systems and the city of Celina where motorists pay misdemeanor traffic fines.
Lt. Day Lay, commander of the Wapakoneta post of the Ohio State Highway Patrol, told The Daily Standard the loss of revenue doesn't concern him, he just wants to save lives on area roadways. The statewide OSHP effort puts less focus on writing tickets and more emphasis on making troopers visible in high-accident areas.
"Issuing citations has always been at the officers' discretion. Sometimes it's more beneficial to give a warning, written or verbal," Lay explained. "We've never had a quota to meet. The goal is to reach out to as many people as possible so drivers can change their bad driving habits voluntarily."
OSHP officials in Columbus believe the agency's new plan resulted in 50 fewer deaths on Ohio roadways last year. Unfortunately, the local two-county area saw traffic deaths climb from 11 in 2003 to 20 in 2004. Lay believes the plan to position his troopers in key areas -- over a period of time -- will help bring those numbers down. "Maybe last year wasn't a good barometer to measure the success of the program, but I think it will be effective in the long run," he said.
In 2004, troopers frequently monitored rural intersections where fatal crashes previously occurred, and that seems to have helped, Lay said. Of 18 fatal crashes, only two occurred at rural intersections, three occurred within city or village limits and the rest involved vehicles leaving the wide-open roadway and striking poles or other fixed objects.
"We'll be trying to work more on the open roadways where we know there are problems," such as speeders or drivers who repeatedly disobey traffic signs, he added.
Celina city officials say fewer traffic tickets last year added up to a loss of at least $40,000 from their budget this coming year -- about 1 percent of the city budget, said Celina City Auditor Pat Smith.
Smith explained the dollar loss is about equivalent to the base salary of a city firefighter or policeman.
The loss of funds could mean less capital spending by the city such as street paving or park and recreation improvements, Smith added.
Money taken in for traffic fines is split three ways at Celina Municipal Court: 50 percent to the state, 40 percent to the city and 10 percent to the county.
In 2003, state patrol citations brought in nearly $78,480 to the Celina court, with the city pocketing about $31,200 of it. In 2004 when less tickets were issued, the total fell to $55,325, leaving the city approximately $10,000.
But city officials say there's more to it than that. They claim the city also lost court cost revenue -- an average of $25 for each citation. With 1,290 less citations in 2004, the city missed out on an additional $32,000, that's if court costs were applied in each case.
Auglaize County Clerk of Courts Sue Ellen Kohler said that court handled 3,191 less tickets from troopers from 2003 to 2004, a decrease of nearly $40,000 in traffic fines. The county retains about $40 in court costs from each case, which means an additional dollar loss of possibly more than $12,700.
"I think this will have a definite impact on the county budget," Kohler said, adding that the county commissioners were made aware of the dropping figures by mid-year 2004.
Auglaize County Commissioner President Ivo Kramer said commissioners will be looking for ways to adapt the budget to the loss. The county-funded law library could be one of the projects to receive less funds next year, Kramer added.
The Auglaize County Municipal Court also divides its traffic ticket revenue with the state but, as a county court and not a city municipal court, the remainder goes primarily to the county's general fund.
"The general fund is where the money comes from to pay the salaries of court employees such as myself and my staff, the judge's staff, probation officers ... just about all of us over here," Kohler explained.
Kohler said the loss also affects the amount the state draws from the court and those monies help pay for such programs as the Victims of Crime and public defender funds.
The loss of revenue from the state patrol's plan is only the tip of the iceberg, she said. Combined with other possible funding losses such as reductions in state and sales taxes, there could be real trouble in the near future, she said.
"I think it would probably be an impossible task for the average citizen to understand how less tickets written by troopers can greatly impact our smaller governments," she said.