By Ryan Hines
rhines@dailystandard.com
LIMA -- In a game where neither team led by more than five points, it was Coldwater that collected an exciting win on the road at Shawnee on Monday night.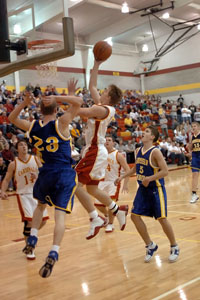 Coldwater's Chad Miller connected on an off-balanced pass to Brent Robbins who beat the buzzer with a layup giving the Cavaliers a 46-45 win.
Robbins' bucket came with less than one second left on the clock and the Orange and Black fans went wild.
"We had to battle this whole game tonight," said Coldwater head coach Don Vogt. "We made some mistakes along the way, but with the way the kids just battled through it and found a way to win the game at the end, I'm just really proud of them. Anybody will tell you that this is a tough place to play and to come away with a win here tonight is big."
The game-winning bucket capped a solid night by Robbins as the senior scored a team-high 18 points on 7-of-10 shooting. Miller, who delivered the assist on the game-winner, was a force inside with 12 points and a game-high 12 rebounds. "What's really nice about this team is that last Thursday, I can have two kids hit for 23 and 21 and then tonight have two other kids step up and be big in this game," stated Vogt.
Coldwater is now 4-2 on the season while Shawnee falls to 2-8.
The lead changed hands on 10 occasions in the fourth quarter but neither team could mount much of a bulge until the Cavaliers seized the momentum with a Robbins trey with just 1:30 left in the game.
Shawnee's Jordan Swift, who led all scorers with 23 points, then missed a spinning short jumper in the lane and the rebound went out of bounds to the Cavaliers with 45 seconds left on the clock.
Swift then ran off a couple of screens and drilled a trifecta from about three feet behind the three-point line with 17 seconds left to play giving the Indians a 45-44 advantage.
"We had a couple of people switching to get to him on the play but he just made a big shot and he's a good shooter," lauded Vogt. "Our kids could've just folded and lost their composure at that point because it was a great shot, but they never got nervous and just fought through it and found a way to win."
After a timeout with 13 seconds left to play, Vogt drew up the final Cavaliers play which sent the Coldwater fans into a frenzy.
"What we wanted to do was just get the ball down low and try to get somebody to the basket," said Vogt. "We had people moved around and put exactly where we wanted them and we didn't get the shot that we wanted on the play but Chad Miller had the heads-up move to the basket, drew some defenders and found Brent under the basket for the game-winner."
Coldwater is back in action on Friday hosting Minster in a Midwest Athletic Conference contest.
Phone: (419)586-2371, Fax: (419)586-6271
All content copyright 2005
The Standard Printing Company
P.O. Box 140, Celina, OH 45822