By Timothy Cox
tcox@dailystandard.com
Grand Lake St. Marys area residents braced for an ice storm expected to wreak havoc throughout today and overnight.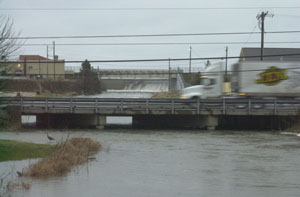 Light rain fell through most of the morning as the temperature dipped below freezing. Streets remained wet but easily passable while untreated areas like parking lots and metal surfaces began accumulating an icy glaze. Worse is expected later today.
A winter storm warning is in effect through Thursday morning. The mixed bag of freezing rain, sleet and snow comes on top of saturated ground. A flood warning is in effect for the St. Marys River in Mercer and Auglaize counties, and the Beaver Creek, where water from the lake flows via the West Bank spillway, also is out of its banks. The Beaver Creek then flows to the Wabash River.
Grand Lake State Park Manager Craig Morton said the lake level was at 12 inches above normal and moving higher. Water is spilling through the notch at the West Bank spillway, but no serious flooding problems have been reported yet.
Local weather forecaster Dennis Howick predicted temperatures hovering at or just below freezing today and tonight. The weather predictions have area government officials scrambling to prepare for the worst. Accumulated ice can easily bring down large tree limbs and topple power lines.
Schools in the northern part opted to close today, even though conditions were OK early this morning. Celina, Parkway and Coldwater schools all closed, along with St. Marys , New Bremen and New Knoxville schools in Auglaize County. Coldwater also postponed a school board meeting scheduled for this evening.
"It wasn't a concern getting them in because there's no problems with ice. Getting them home could have been dangerous," said Coldwater district Treasurer Sherry Shaffer, summarizing Superintendent Rich Seas' decision to close school.
Marion Local, Fort Recovery, St. Henry and Minster districts were in session as of press time this morning.
Mercer County road crews were already out this morning, although details were unavailable. County highway garage superintendent Rick Newcom was out on one the trucks treating county roads.
In Rockford, Village Administrator Jeff Long said conditions were not icy there late this morning. Long and two other village employees are available to spread salt if conditions deteriorate, he said. Power lines in the town are owned and operated by Dayton Power & Light Co. In the event of power failure, a generator could run the town's water and sewer plants for a couple of days, he said.
Phone: (419)586-2371, Fax: (419)586-6271
All content copyright 2005
The Standard Printing Company
P.O. Box 140, Celina, OH 45822