By Gary R. Rasberry
grasberry@dailystandard.com
COLDWATER -- After spending the most of December on the road winning invitationals and putting together strong team performances, the Coldwater wrestling team made its return to the home schedule in a triangular match featuring Lima Central Catholic and Spencerville, a pair of teams in the Cavaliers' sectional.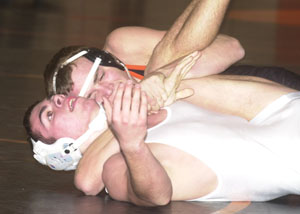 Coldwater dominated both teams to go 2-0 on the evening in the confines of the Pit. The Cavaliers beat LCC 52-17 to start the night and ended the night with a 56-18 win over the Bearcats. Spencerville went 1-1 by defeating the T-Birds 32-28 in the middle round.
"It was a nice night," said Coldwater coach Chuck Alig. "The kids wrestled hard both matches. LCC had some quality kids. We knew if we could win more matches than them, we would be pretty good."
Eight Cavaliers finished the night 2-0. One who wrapped up the night in style was senior Kyle Oswalt at 215 pounds. Oswalt faced off against Spencerville's Brad Caudill, who beat Oswalt twice last season en route to a trip to state.
After a scoreless opening period, Oswalt chose the down position to start the second. Oswalt was able to escape to earn one point and ended the period with the lead. With a warning out for stalling, Oswalt had to be careful to not get caught again and give Caudill a point. With Caudill down in the third, Oswalt worked hard to get Caudill's shoulders at a 45-degree angle to earn backpoints. Oswalt's work paid off as Caudill was in positiion for the full five seconds, earning Oswalt backpoints for the 3-0 win. "It felt great," said Oswalt. "I wasn't sure how it would turn out. I wanted to pin him, but things didn't turn out that way. I won, so I'm pretty happy."
Also getting two wins on the day was Kyle Uhlenhake at 189 pounds. Uhlenhake is happy that he and the rest the Cavaliers are wrestling well, especially against two teams that they'll see sometime in the postseason.
"It shows we can compete with them in that sectional," said Uhlenhake. "In wrestling, everybody has to cotribute somehow. Everyone did that today. If you don't give up the pin, that saves three points you're saving us from making up."
Also going 2-0 on the day were Bryce Schlater at 145 pounds, Andy Schmidt at 152, Tyler Kunk at 160, Brian Uhlenhake at 171, Craig Homan at 175 and Marty Hemmelgarn at 135. Ryan Muhlenkamp (140), Austin Abels, Jarred Kohn (112), Kenny Platfoot (119) and Gregg Homan each went 1-1.
The Cavaliers return to action on Saturday at the Adams Central Invitational in Indiana. The meet starts at 9 a.m.
Phone: (419)586-2371, Fax: (419)586-6271
All content copyright 2005
The Standard Printing Company
P.O. Box 140, Celina, OH 45822