By Timothy Cox and Betty Lawrence
Residents across the Grand Lake St. Marys area awoke to an icy nightmare of downed tree limbs and power lines following Wednesday's persistent freezing rain.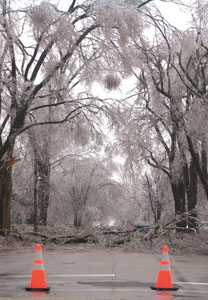 Many homes and businesses throughout the area remain without power. Despite numerous falling tree limbs and chunks of ice, no serious injuries have been reported. Law enforcement and utilities crews worked throughout the night responding to scores of calls for assistance.
Power had mostly been restored throughout Celina this morning, Safety-Service Director Jeff Hazel said. Electric crews still were working to restore sporadic outages and dealing with the continued threat of falling branches.
In St. Marys, at least a third of the city went all night without power and outages remained widespread this morning, Safety-Service Director Mike Weadock said. Goodyear Tire & Rubber Co. and most of the St. Marys' industrial areas were without power.
"It's pretty much a nightmare," Weadock said. "We've called for mutual aid, and we're hoping to get some assistance soon." St. Marys meter readers, trash collectors and other workers joined with street department crews to begin clearing the massive amount of tree limbs from the streets, Weadock said.
In the village of St. Henry, Fire Chief Ron Ontrop reported about 75 percent of the village was still without power this morning. Transformers and fires from downed power lines also kept the department busy all night.
Ontrop said one of the runs was to a house fire around 8:30 p.m. that was related to the ice storm. The fire, at the home of Urban and Peg Clune on Lange Road, started in the kitchen after the family left due to a loss of power.
"The family had left the house because their power went out. When they returned home later when the power came back on, the house was full of smoke from a grease fire that had started on the kitchen stove," he said.
Major damage was limited to the kitchen area, with smoke damage throughout the house.
"Today we'll be busy too, taking care of downed trees and branches," a tired Ontrop said this morning.
Power outages also darkened the village of Rockford.
"My power went out last night, and it's still out. The whole town is dark this morning," Rockford Fire Chief Ralph Rhoades said early today.
Rhoades reported the village's fire department made nearly a half dozen fire runs throughout the night due to iced downed trees catching on fire from power lines.
After they get a handle on the power situation, crews are expected to turn their attention toward sandbagging along the flooded St. Marys River that runs through both St. Marys and Rockford.
"It's dangerous out there. If you don't have to leave your home, don't," Rhoades said.
The flooding was first and foremost on the minds of county Emergency Management Agency officials early Wednesday. Interim EMA Director Wanda Dicke said she spent much of the day monitoring rising water near the Community Medical Center and other areas along the flooded Beaver Creek. Properties in that area were the hardest hit during the historic flooding in July 2003.
By evening, the EMA priorities changed as ice accumulations began bringing down trees and large limbs and power lines.
Dicke said she planned to talk this morning with Mercer County Commissioners about seeking a state disaster declaration from Gov. Bob Taft. A disaster declaration could lead to state or federal funding to assist with paying the costs of power restoration, debris removal and fixing property damage.
As tree limbs began falling Wednesday evening, there were numerous reports of fireballs and electrical arcing. Firefighters throughout the area dealt with numerous reports of trees on fire after contacting high-voltage lines. Many electric crews and city and village officials worked all night long.
Celina electric superintendent Jeff Severns reportedly called the ice storm the worst the area has ever seen.
Phone: (419)586-2371, Fax: (419)586-6271
All content copyright 2005
The Standard Printing Company
P.O. Box 140, Celina, OH 45822