By Lance Mihm
lmihm@dailystandard.com
Several residents remained without power in the area, although electric crews worked around the clock and the situation seems to be improving, according to local officials.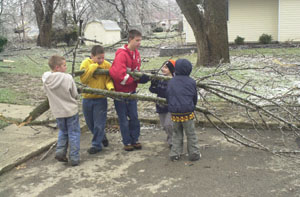 Dayton Power & Light spokesman Tom Tatham said about 3,000 Mercer County and 2,500 Auglaize County residents remained without power as of 8 p.m. Friday night.
Midwest Electric Co. spokesman Floyd Sheaks said about 1,500 of its residents would go without power throughout the weekend and into the first of next week. Midwest has asked customers to make immediate arrangements for family and livestock to get through the weekend.
Those numbers are significantly down from the 45,000 customers DP&L reported and 5,000 customers Midwest Electric reported out of power Thursday morning, after an ice storm destroyed electrical wires throughout the area Wednesday.
Celina Safety-Service Director Jeff Hazel said less than 100 people in the city would go through Friday night without power. "It is mostly down to isolated people with service lines to their homes that have been ripped out," Hazel said. "The businesses are all now up and running."
Hazel said city workers had more than 300 overtime hours working on restoring power and cleanup efforts as of 8:45 p.m. Friday and plans were to work through the weekend if needed. Crews from Yellow Springs, Orrville, Hamilton and Napoleon were supplying mutual aid to the city.
St. Henry Village Admin-istrator Don Hess said power had been restored to all residents at 7 p.m. Friday, and then a branch fell on a wire and cut power again to some residents. Hess was hoping the outage would be only temporary.
St. Marys Safety-Service Director Mike Weadock said in a telephone call at about 8:30 p.m. Friday that the remainder of the city would have power in the next 20 minutes.
"We have everything up but the west circuit, which is about a third of our customers," Weadock said. "We are going to energize it in about the next 20 minutes, and we are hoping it is going to hold."
In addition with city crews, St. Marys reported mutual aid from 10 crews from Westerville, Bryan and Yellow Springs.
"I have talked to people living in town that are 80 years old, and they say this is the worst ice storm they have ever seen," Weadock said. "We are doing what we can."
Storm shelters have been set up at St. Paul United Methodist Church in Celina, the Mercer/Auglaize Family YMCA east of Celina, The St. Joseph Parish in Wapakoneta, Wapakoneta Manor Nursing Home and in the junior fair building at the Auglaize County Fairgrounds. A special needs shelter for elderly and people in need of special medical attention was set up at Auglaize Acres in Wapakoneta.
Fairground secretary Fred Piehl said about 40 people were at the junior fair building planning to spend the night Friday, and more were expected as it got later. He reported that several others were coming just to get a hot meal before returning home.
Several shelters in St. Marys were set up but lost power and were referring citizens to the Wapakoneta shelters, a spokesperson at the Auglaize American Red Cross said.
Phone: (419)586-2371, Fax: (419)586-6271
All content copyright 2005
The Standard Printing Company
P.O. Box 140, Celina, OH 45822