By Betty Lawrence
blawrence@dailystandard.com
All Dayton Power & Light customers should have their power restored today while some Midwest Electric customers may not be fully powered up until Thursday, company officials reported this morning.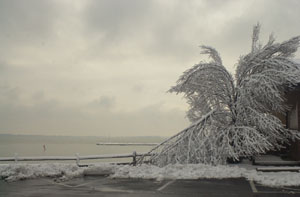 Tom Tatham, spokesperson for DP&L, said 300 crews from more than 10 states worked nonstop during the weekend to restore power to customers.
"As of right now, we have nearly 4,000 customers without power, with around 3,000 of those in Logan County and the remainder in Mercer, Auglaize and Shelby counties," Tatham said this morning. "In total, we've had about 1,000 people working. We're working hard to get everything wrapped up today and get everyone up and running."
Overall, more than 100,000 DP&L customers in Mercer, Auglaize, Darke, Shelby and Logan counties were affected by last Wednesday's ice storm, he added. The ice storm caused trees to topple on power lines and transformers were damaged.
Electrical crews from southern Ohio and Kentucky and tree trimming crews also have been working nonstop for Midwest Electric since the storm. Midwest Electric doubled its workforce, and as a result, all but 600 Midwest Electric customers now have power, company spokesperson Matt Berry said this morning.
Unfortunately, a car hit a utility pole early this morning, causing yet another outage for around 500 Midwest customers near Elida.
"In Mercer County, the Macedon substation was back on line Sunday evening and that was a big advance as it affected many customers," Berry said.
The main areas of attack today, Berry said, will be the area south of Grand Lake St. Marys, the Moulton and Chickasaw areas, Noble Township areas north of St. Marys and the Elida substation.
"The good news is, all our main circuits (three phase) are back up and running," Berry said.
The three-phase circuits feed a large number of customers and industries, he explained. Single phase circuits and individual outages are being addressed today.
"At one time, at the peak of the outages, we had over 5,000 customers, about half of our total customer base, without power. It was such a widespread storm and that made it difficult. All of our substations were affected by the storm," Berry added.
The weekend's above freezing temperatures melted the ice, however, the weather forecast now calls for rain through Thursday and flooding is expected to be a major concern.
Grand Lake St. Marys was 17 inches above normal water level on Friday, the last day an accurate reading could be taken, said Steve Dorsten, Ohio Division of Water canal supervisor at St. Marys.
The winds and waves have precluded measuring the lake level since Friday, Dorsten said. He believes the water may be a little lower now. The notch at the West Bank spillway is considered the normal level. The gate at the spillway has not been opened, he said.
However, the hydraulic gate on the east side of Grand Lake St. Marys has been open about five inches for seven days, Dorsten said, due to the high lake level. This gate opens into the Miami-Erie Canal and was raised to supply water for the St. Marys' power plant, he said.
The St. Marys Park facilities and many residences on the east side of the lake remained without power this morning.