By From staff reports
newsroom@dailystandard.com
Some residents are still without power today, and cleanup efforts have begun after last week's ice storm, local officials reported during various meetings held Monday night.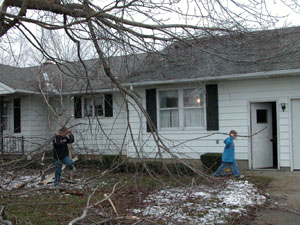 Midwest Electric officials this morning said less than 500 people remain without electric in West Central Ohio. Crews are focusing now on individual service outages.
"These will be more tedious and time consuming," said Matt Berry, a spokesman for the electric company.
Substation metering points near Chickasaw and south of Grand Lake St. Marys in Auglaize County are being targeted by Midwest crews today who hope to restore all customers by Thursday.
Tom Tatham, spokesperson for Dayton Power & Light, said less than 15 customers in both Mercer and Auglaize counties remain without power this morning. DP&L has about 300 crews -- about 1,000 repairmen -- out in the field, most focusing their efforts now in Logan County where 900 customers remain in the dark. DP&L brought in linemen from 10 different states, from as far away as Georgia, Tatham said.
This is the worst outage problem he's seen in his 20 years with the company, he said.
"Customers have been very understanding about the situation and how extensive the damage was," he said. "It's been a long week."
Only a handful of the nearly 7,600 customers using Celina Utilities for electric power were still experiencing outage problems Monday night. At one point, officials estimated 3,500 Celina customers were without power.
"This past weekend our employees performed just awesomely," Celina Safety-Service Director Jeff Hazel said during a Monday night council meeting.
Celina street crews will be doing street-side chipping through Jan. 28, and residents are asked to keep limbs small enough to handle. Limbs should be piled on the curb lawn and not in the street, where debris can accumulate in storm sewers. Residents also are discouraged from hauling limbs to the old city dump, due to poor access and space.
There is also a mess at Grand Lake St. Marys State Park, park Manager Craig Morton told members of the Lake Development Corporation (LDC) meeting Monday.
"This is the worst ice damage to trees I have ever seen," Morton said. "There were no buildings damaged, but there are limbs everywhere."
Morton said he has requested help from other parks, but fears none is coming, because they likely are busy cleaning up their own mess.
LDC member Greg Schumm asked if volunteers and other groups could help with the cleanup. Morton said they could, but would not be permitted to take any of the wood from the fallen trees out of state park areas.
"We'd love to have volunteers help, but we can't let people come in and take the firewood," he said. "I plan to get people involved in the annual lake cleanup (April 23) because a lot of this mess will still probably be around."
Morton also reported that electricity was finally restored to the campground late Monday afternoon.
Only a few spotty power outages remain in St. Marys, Safety-Service Director Mike Weadock told St. Marys City Council on Monday. In those cases, service connections were damaged and electricians need to make repairs before power can be reconnected, he said.
"There's going to be another two to three weeks before we're back to normal," St. Marys Mayor Greg Freewalt said.
City officials praised the efforts of city employees and those from other towns who responded to help. They also thanked residents for their patience.
"It wasn't a fun three or four days," Weadock said. "The guys did great work and fought a lot of tough conditions. I know when your house is cold on the third day, it's tough, but a lot of people are working hard."
It is virtually impossible to begin assessing the financial costs of the storm at this point, Weadock said. Council passed an emergency measure authorizing the expenditures Weadock approved last week. The ordinance does not mention specific dollar amounts but instead gives city administration officials a blank check to deal with the disaster.
Several city utility workers logged more than 100 hours last week, Weadock said. Other workers came from the cities of Hamilton, Tipp City, Bryan and Westerville to help restore power.
"It's nice to know you can get on the phone and ... get help," Weadock said.
While exact costs cannot be calculated yet, city officials do have the tab for last month's near-record snowfall. Twelve inches of snow fell Dec. 23, keeping city street crews busy through the holidays. The total cost was $18,637, which included labor, road salt and a contractor to haul snow out of the city.
The ice storm cost is expected to be several times that amount.
-- Shelley Grieshop, Sean Rice, Timothy Cox and Nancy Allen contributed to this story.