By Gary R. Rasberry
grasberry@dailystandard.com
MARIA STEIN -- In the "coach's comments" insert in the Marion Local program for Monday's game, head coach Keith Westrick noted that it was important that one of the goals for the game was to know where Spencerville's Logan Nourse was at on the floor, especially around the perimeter.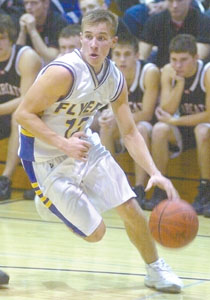 The reason why was visible as the game progressed.
The Bearcat sophomore was 8-of-11 from the floor, including 6-of-8 from the three-point line as Spencerville downed the Flyers 50-43 at the Hangar in non-conference action.
The Flyers drop below .500 at 3-4 as the Bearcats improve to 7-2.
The shooting of Nourse was just a part of what hampered the Flyers throughout the evening. The Flyers committed 12 turnovers in the first half -- 17 in the game -- that led to the Bearcats overcoming a 9-2 early deficit to take an 11-9 first-quarter lead and a 24-20 lead at the half. "Some of those turnovers in the first half were unforced turnovers," said Westrick. "It was just us trying to do things too quickly. We're still trying to mesh chemistry and personnel. That hurt us a little bit in the second quarter."
"I think we did a pretty good job of that tonight," Bearcats coach Kevin Sensabaugh said of his team's defense. "It forced (Marion) into some turnovers they probably didn't like. I think our defensive pressure had a lot to do with that."
The Flyers kept it close, holding short leads through the second quarter, but Nourse began to heat up late in the first half and throughout the second half.
With the Flyers doing a good job on Bearcat post players like *-9Eli Waltz (6-3) and Josiah Stober (6-5), the ball was kicked out to the perimeter. When Nourse got the ball, he put it up and made all four of his three-point attempts in the second half to help pad the lead. Nourse led all players with 25 points.
"Unfortunately, you can't forget where #21 is," said Westrick, referring to Nourse's jersey number. "One time on an inbounds play, we lost him. Anytime you give him a wide-open look, he's going to knock it down. We knew that's their perimeter threat."
Marion stayed close thanks to strong shooting from Ryan Winner and Ryan Stucke. Winner finished with 13, which was the only double figure-effort for the Flyers and the only other in the game beside Nourse's effort. Stucke finished with nine points while Kyle Moeder scored all seven of his points in the third quarter.
Only late in the fourth quarter was Spencerville able to get a double-digit lead when Stober hit a pair of free throws with 17 seconds left to go up 50-40. Curtis Moeller sank a three-pointer with seven seconds left to get the deficit back to seven as time wound down.
"I thought (the team) played hard tonight," said Westrick. "They played with a lot of heart against a good team."
"That's just a good win for us," said Sensabaugh. "We came off a tough loss last Monday at Columbus Grove. It was a good win. It was a gut check to see if we could come back and fight back as hard as we did. I think we did a great job of that."
Marion is back in action on Friday as the Flyers host Parkway in Midwest Athletic Conference action.
Phone: (419)586-2371, Fax: (419)586-6271
All content copyright 2005
The Standard Printing Company
P.O. Box 140, Celina, OH 45822