By BETTY LAWRENCE, TIMOTHY COX and SHELLEY GRIESHOP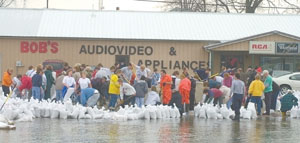 newsdept@dailystandard.com

It was a community effort this morning in Celina and Rockford as residents sandbagged around businesses and homes to head off rising floodwaters.
Heavy rains the last 24 hours caused extensive flooding throughout the area. Many local residents, still recovering from last week's ice storm, found themselves with flooded basements as more than 2.3 inches of rain fell locally from Tuesday afternoon through 8 a.m. today. The lake was 22 inches above its normal level today, just two inches below the level it reached during the Independence Day Flood of 2003, State Park Manager Craig Morton reported this morning. The lake level slowly has been rising due to excessive snow and precipitation this season.
The rising water caused the Beaver Creek, connected to the lake via the West Bank spillway, to overflow its banks this morning. Water was up to U.S. 127 and surrounding Breakaway RecPlex, Community Medical Center and other area businesses, which suffered flood damage in 2003.
It was a sea of hurried activity this morning as backhoe and dump truck operators quickly moved large piles of sand to ring the medical center to prevent flooding. Plastic sheeting was placed over the loose sand and held down by sandbags, filled by at least a hundred volunteers who gathered this morning at nearby Bob's Audio.
"Right now we're just trying to control the flow of water from going into the building," said Keith Houts, Jefferson Township trustee.
As of press time there was no water inside the medical center.
"I came in at 7 a.m. this morning and the water was rising fast. I saw three patients, but then we had to close the center because the water just kept getting deeper," said lab technician Deb Kremer.
The medical center sustained $1.5 million in damages due to the 2003 flooding and recently completed renovations from those damages.
Helping sandbag at the site were township trustees, Coldwater hospital employees, 16 students excused from Celina High School to help and many concerned citizens. They all worked together to fill the bags quickly.
"I can't believe it's happening again. We're just trying to keep it from getting into the building," hospital employee Carolyn McKibben said as she shoveled and filled bags with sand. .
The earthen dike that was constructed around the RecPlex following the 2003 flood was holding its own this morning. However, volunteers and Case Leasing employees were still sandbagging at the entrance.
"Right now we have no water in the building, but this sure brings back a lot of bad memories," RecPlex manager Julie Harlamert said this morning. The business also sustained $1.5 million in damages in the 2003 flood.
Romer's at Westlake and surrounding rental homes also did not have any water inside the facilities, but the parking lots were flooded.
Rockford village workers and volunteer firefighters returned to the frequent site of flooding along Market Street on the west edge of the village.
Water was rushing across Market Street, which becomes Rockford West Road outside the town, after village officials sandbagged the south side of the road adjacent to a farm field. The sandbagging effort was aimed not at blocking the water from crossing the road, but to protect a half dozen or so homes along the north side of the road threatened by the water.
"At least one of the houses probably has water in it already," Rockford Village Administrator Jeff Long said.
Village officials previously had said they would not sandbag that area in the event of more flooding. Backing up water onto someone else's property is not legal, so village officials had said they would end the practice.
Long this morning, though, said he could not stand by and watch village residents' homes wrecked by water. The sandbagging was done so that water can still flow freely, but it is diverted as much as possible from the homes, he said.
The swollen St. Marys River was not threatening nearby property as of this morning.
"We lucked out with that," village utilities technician Tom Beahrs said. "The river's not as high as it was two days ago. It's probably gone down three feet."
That is expected to change during the next 24 hours, Long and Beahrs said. The runoff from last night's heavy rains and another inch or more of rain expected in the next day or so likely will push the river out of its banks, they said.
Driving was hazardous this morning as multiple county and township roads were closed by dawn in both Mercer and Auglaize counties, particularly where the St. Marys and Wabash rivers and Beaver Creek crossed, officials said.
Several rural residents flagged down sheriff's deputies and reported flooding on roads that historically never flooded before. Laura Dickerson, who resides on Fleetfoot Road near Fairground Road, said she's never seen the roadway by her home flood as it did overnight.
"It looks like a pond," she said, adding it never washed out like that in the 10 years she's lived there.
Area law enforcement also reported numerous branches and other debris, left from the ice storm, floating across roadways and making driving even more treacherous. Sheriffs in both counties are warning motorists not to cross any roads that appear to be covered with water.
A forecaster for the National Weather Service (NWS) said river and creek levels locally should peak by this evening, even though a half inch to an inch of rain is forecast to fall Thursday morning.
"That storm system should move quickly through your area," said NWS forecaster Steve Hrebenach.