By BETTY LAWRENCE, TIMOTHY COX, LANCE MIHM and SEAN RICE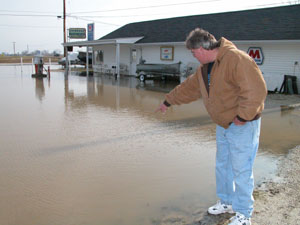 newsdept@dailystandard.com

The three-foot high sand wall surrounding Community Medical Center in Celina has kept the water out.
Terrence Padden, CEO of Mercer County Community Hospital in Coldwater, which operates the center, said the water level increased about an inch around the building overnight, but there were no leaks into the building. "We had a crew in the building all night to keep an eye on the situation. We're dry and seem to be stable for the moment," he said this morning.
Padden and many residents of Mercer and Auglaize counties are holding their breath, hoping the area doesn't get any more rain. An aerial trip over both counties Wednesday showed floodwaters everywhere, due to recent rain on top of already saturated ground from the December snowstorms.
Sandbagging was done in Celina, Rockford, Montezuma and St. Marys. No businesses reported major damages this morning, although several homes throughout the area had flooded basements and other water damage.
The concern today, Padden said, is an approaching thunderstorm.
"We're a little anxious and remain in a standby mode. We continue to watch, keeping a close eye on any leakage," he said.
A ring of sand was dumped around the north end of the center last week to halt flooding, and Wednesday morning hundreds of volunteers showed up to sandbag the entire building. The sandbagging halted about 6 p.m. Wednesday.
Nearly 20,000 bags of sand were filled, said Ken Obringer, public relations director at the hospital.
"In some areas around the building, the water is about three feet deep," Obringer said. "But the wall has held so far ... It's bizarre, sandbagging in January."
After the July 2003 flood, which caused $1.5 million in damages to the center, hospital officials and township trustees began drawing up plans for a flood wall on the north side of the building.
Padden said Fanning and Howey Associates of Celina designed the wall and are ready to put it out for bid. Targeted completion date is next spring.
The medical center's neighboring business, Romer's at Westlake, also is dry so far.
Manager Jason Romer this morning said water there actually is receding, but he is considering sandbagging anyway.
"The building right now has a foot of elevation over the floodwater, before it would get to the doors. If we get more rain, I don't know what will happen," he said.
Although U.S. 127 is closed due to high water, the business still can be reached through West Bank Road.
"I would say the water level is close to what we had in 2003. But right now, so far so good," Romer said.
Julie Harlamert, a manager at Breakaway RecPlex fitness club in Celina, said a new system of storm water retention around the building is preventing a repeat of the flooding that caused $1.5 million in damage to that facility.
"We're doing much better with the dike system we built around," Harlmert said this morning before leaving home for Breakaway. Since U.S. 127 was closed near the facility, Harlamert and other employees are parking on Schunck Road and walking to the building on the Celina-Coldwater bike path.
Sewers in the lower floor backed up, but employees have it under control, she said. Also, employees moved equipment to higher ground.
"We don't want a repeat of last year," she said.
If rain continues today as forecast, Harlamert said the retention mounds outside can handle a few more inches of water before coming over the top.
"But not much more," she added.
In Rockford, where sandbagging efforts were used to keep some street flooding from damaging nearby homes, attention this morning had turned to the rising St. Marys River.
"The river is rising fast," Rockford Village Administrator Jeff Long said.
No homes inside the village are directly threatened by the flooded river, but a handful of properties on the outskirts of town in rural Dublin Township are in jeopardy, Long said. Volunteer firefighters were preparing this morning to begin sandbagging a couple of locations along the river, he said.
Inside the village, the situation had eased somewhat. Water is no longer rushing across Market Street and there are no other problem areas, Long said. Even with another half-inch of rain forecast for today, Long said he was not anticipating any further problems inside the village.
In St. Marys, city superintendent of community services and engineering Steve Opperman said the St. Marys River rose as much as 14 feet above normal Wednesday, but had dropped off four feet as of this morning.
"Luckily we were able to keep the problem to a minimum," Opperman said. "There was some flooding on the south side of town and around Goodyear. They did some sandbagging. The South Street parking lot flooded like it does every few years. But overall we have been lucky."
Opperman said that portions of McClain, Hackney, Huffman and Oliver streets were closed for a while due to flooding but now are open.
The National Weather Service issued an updated flood warning for Mercer County at 6:22 a.m. that said the river would rise an additional one or two feet in Mercer and Auglaize counties today. That would still leave the river about two feet lower than the 2003 Independence Day flooding.