By Betty Lawrence
blawrence@dailystandard.com
Residents living in the villas at the new Westlake Village were moving to higher ground Thursday afternoon after floodwater covered the transformers, leaving the 30 rentals without power.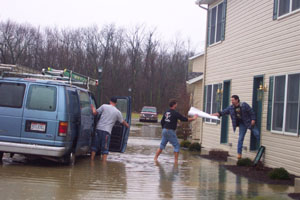 Westlake Village is located beside Romer's at Westlake, located along U.S. 127 on the sound end of Celina. That entire area has been battling rising floodwaters the past three days due to the Beaver Creek overflowing its banks. The Beaver Creek receives water from Grand Lake St. Marys, via the West Bank spillway.
Grand Lake St. Marys was too rough to measure today, but the water level appears to be going down, said Steve Dorsten, Ohio Division of Water canal supervisor. The lake had measured between 17 and 22 inches above normal level in the last week.
At the villas, no water entered the homes, but 24 people were moved out of eight of the buildings due to no power, manager Tim Terry reported.
"We have very minimum damage. There were a couple of air ducts with water in them, but that's all. When the transformer became underwater, we had everyone move out to the condos up on West Bank Road," Terry said. Also fighting the rising waters in that area were officials at Community Medical Center. Ken Obringer, public relations director for the Coldwater hospital, which runs the center, said the three-foot wall of sand surrounding the medical center kept the water at bay.
"Things are pretty good in the building. It's still dry and hopefully will stay that way. The next challenge now will be ice if all this water freezes," Obringer said.
The medical offices and Doctor's Care program that operate in the facility have temporarily relocated to the hospital and Mercer Health Home Care in Celina. Family Audiology is operating in their St. Marys office, and Dr. Holzer has yet to be relocated.
"When they can return to the center depends on how long it takes for the water level to go down and the parking lot is cleared. Hopefully, they can move back early next week," Obringer said.
Also reported dry this morning are Romer's at Westlake, Breakaway RecPlex and Bob's Audiovideo.
Several hundred people helped sandbag the area on Wednesday, when the water first began to rise. The rains this week flooded several areas in Mercer and Auglaize counties, which were already saturated due to snow, rain and ice storms this season.
Local weather forecaster Dennis Howick had mostly good news for water weary businesses.
He predicts dry, but cold, weather through the middle of next week.
Phone: (419)586-2371, Fax: (419)586-6271
All content copyright 2005
The Standard Printing Company
P.O. Box 140, Celina, OH 45822