COLDWATER -- In his post game comments, New Knoxville Rangers basketball coach Dwain Meckstroth used the word "poise" several times in regard to his team's play.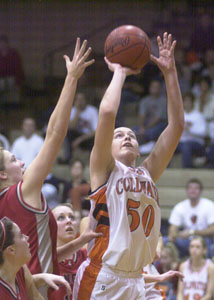 Poise was definitely needed by the Rangers as they overcame a rally by the homestanding Coldwater Cavaliers in a bizarre fourth quarter to post a 58-47 Midwest Athletic Conference win.
New Knoxville pushes its record to 3-1 in league play and 8-3 overall while Coldwater falls to 1-3 in the MAC and 7-4 overall.
"We haven't played in 10 days and I don't care what you say, it's tough to come out and play after a layoff like that," said Meckstroth. "I played 10 girls tonight and to have them play on the same page after a layoff like we had is a credit to them.
"I thought we did a great job of staying focused mentally," continued Meckstroth. "The physical part of the game is an every night thing in this league but the mental is something that each team has to do different every night and I was really pleased with the way we ran things down the stretch." The final quarter commenced with New Knoxville leading 42-35 and just 12 seconds into the period, the Rangers' Nicole Wright was fouled. Standing at the free line, Wright's teammate, Katie Pfenning, stepped into the lane, held her hand palms up to show the game officials that there was water leaking from a hole in the ceiling.
After a brief discussion, the two teams decided to move in the bleachers on the east side of the gym and used the regulation size auxiliary side court. After a quick setup, the game resumed with Wright missing both free throws.
Coldwater then went on a 6-2 run to cut the deficit to 44-41 with 5:51 left. Kelly Obringer scored inside to make the score 42-37. After two Kara Katterheinrich free throws upped the Ranger margin to 44-37, Leah Wenning scored inside and Obringer canned two free throws.
Wright stopped the bleeding, canning two free throws. The Rangers then converted back to back Coldwater turnovers into a pair of free throws each by Katterheinrich and Kristina Foster to rebuild the lead to 50-41 with just under four minutes left.
Coldwater had chance to cut into the deficit as they forced two New Knoxville but could cut only two points off the lead in three trips on a basket by Betsy Homan which cut the margin to 50-43 with 2:51 left.
"What we really hurt them was that they committed a couple of unforced turnovers," said Meckstroth. "I don't think we did anything special defensively there, they just got mixed up on what they were doing.'
"I told the girls that I thought we didn't play with any intensity all night long," said Coldwater coach Nick Fisher. "I thought we hurt ourselves with unforced turnovers in key spots. New Knoxville did a great job of hitting free throws and doing what they had to do down the stretch."
New Knoxville then sealed the win as they went 7 of 10 from the line in the last 2:14. Kruse hit four, Foster hit a pair and Katterheinrich added one.
In fourth quarter, New Knoxville missed its only shot from the floor but hit on 16 of 20 shots from the free throw line.
On the night the Rangers shot the ball well from the field, hitting 14 of 25 from the floor. Katterheinrich led the way for with 14 points. Wright added 13 points and a team high eight rebounds.
Coldwater was led by Kendra Robbins with 14 points.
Coldwater returns to action on Tuesday at St. Marys. New Knoxville is back in play on Saturday, traveling to Waynesfield.
Phone: (419)586-2371, Fax: (419)586-6271
All content copyright 2005
The Standard Printing Company
P.O. Box 140, Celina, OH 45822