By Timothy Cox
tcox@dailystandard.com
Floodwater throughout the area -- especially where its frozen -- will persist although life is returning to normal in the wake of the latest flooding.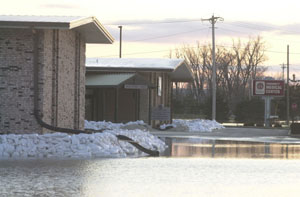 Sandbagging efforts at various locations throughout the county were halted as the sun shone brightly and rivers and creeks crested. Many county and township roads closed by high water also are starting to reopen.
Community Medical Center, 950 S. Main St., in Celina, was at the epicenter of serious flooding along the Beaver Creek for the second time in 18 months. A community-wide sandbagging effort save the building this time around.
The Doctors' Urgent Care office located at the medical center will open at its regular 6:30 p.m. today. The remaining medical offices are scheduled to reopen Monday.
In 2003, the building sustained $1.5 million in damage, but this time around it remains completely dry, said Mercer Health officials. Volunteers who included hospital employees, doctors, area high school students, elected officials, contractors and local government workers combined to create a protective barrier of 450 tons of sand around the facility. Everything will be almost back to normal Monday, Mercer Health CEO T.J. Padden predicted.
"There is no doubt in my mind that we will have most of the doorways cleared of sand and be open on Monday morning," he said.
Over the weekend, Doctors' Urgent Care visitors are asked to approach the office from West Bank Road and use caution in the parking lot. The south parking area and south parking lot should be used.
Elsewhere, some roads remained under water and closed as of Friday evening. In Mercer County, state Route 118, one-quarter mile south of state Route 29, and U.S. 33, between the village of Rockford and the Mercer-Van Wert County Line were closed due to high water.
In Auglaize County, state Route 197 also remained closed to traffic between state Routes 66 and 198 at the bridge over Prairie Creek.
About two dozen county and township roads also were closed to motorists in both counties late Friday evening.
The National Weather Service's latest flood warning for Mercer and Auglaize counties Friday evening said the St. Marys River and other waterways would recede slowly over the weekend. Although no precipitation is forecasted, high water is expected to remain problematic in some areas through the weekend, the weather service statement said.
Mercer and Auglaize counties remain on a list of 59 Ohio counties declared disaster areas by Gov. Bob Taft. The counties included in the declaration have been affected by any or all of the combinations of storms that have swept across the state in recent weeks. The Dec. 23 snowstorm preceded last week's ice storm and the melt from those events and heavy rain this week have created the current flood situation.
State and local officials are awaiting a decision by President Bush on a federal disaster declaration. If Bush approves the declaration, local governments and residents would be eligible for federal aid to recover from losses sustained in the storms.
Phone: (419)586-2371, Fax: (419)586-6271
All content copyright 2005
The Standard Printing Company
P.O. Box 140, Celina, OH 45822