By Margie Wuebker
mwuebker@dailystandard.com
WAPAKONETA -- Auglaize County Sheriff Allen "Al" Solomon assumed his new post Jan. 3 with wish list in hand.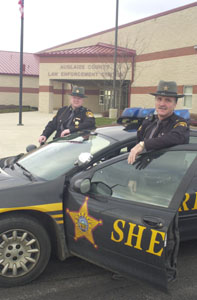 Solomon, who succeeds retired Sheriff Larry Longsworth, has ambitious plans for the future ranging from a crackdown on drugs to the establishment of an Explorer program for teenagers interested in law enforcement.
"I want to strengthen the Grand Lake Task Force," the 47-year-old sheriff said. "Drugs continue to be a real problem here as well as in Mercer County. The problem does not stop at the county line."
He and Mercer County Sheriff Jeff Grey have spoken at length regarding ways to take the task force -- comprised of representatives from law enforcement agencies in both counties -- to a higher level. They see a need for innovative funding and involving member police departments in a team effort to keep drugs out of the hands of young people.
"The Interstate 75 and U.S. 33 interchanges give us problems," Solomon said. "They bring not only people but drugs to our county." Mercer County authorities have located several meth-amphetamine labs during the past year, and he believes it is only a matter of time before such clandestine operations are found in his jurisdiction.
Solomon also wants to introduce more technology in the form of in-car computers to aid busy 911 dispatchers and deputies on patrol. The equipment would allow deputies to run driver's license and license plate checks, now handled by the dispatch staff, and draft initial reports in the field.
"I would like to see computers installed in eight cruisers," he said. "However, it will not happen overnight due to the cost involved. We will be looking at funding, including the use of homeland security dollars."
Other plans include strengthening the existing sheriff's auxiliary force, establishing the first Explorer Scouting post and possibly extending the DARE program to junior high grades.
"Young people drawn to the Explorer program by an interest in law enforcement could wind up filling vacancies at the sheriff's office down the road," Solomon said. "My own interest dates back to high school."
He attended Lima Technical College following graduation and joined the department headed by Sheriff James Knoch as a road deputy in January 1979. The move to detective in 1988 represented the first in a string of promotions. He last served as captain, overseeing sergeants and all scheduling under Longsworth who retired on Jan. 2.
Solomon chuckles softly, pointing out the sheriff's office was much different in the late 70s. All operations, including a 20-bed jail, were located in a two-story building a block west of the county courthouse. Dispatchers and deputies handled corrections along with other duties. Home for the 51-member department and the 70-bed jail is now the Auglaize County Law Enforcement Center located off U.S. 33.
His most memorable case involved the 1986 murder of 12-year-old Betty Head near St. Marys. It took everybody working together -- detectives as well as deputies -- to bring the perpetrator to justice.
"I thought about becoming sheriff over the years, but I was not about to run against Larry (Longsworth)," he said. "He announced plans to retire during his fourth term and asked whether anybody was interested. I said yes and then went home to talk with my wife."
Along with the support of his wife Kris and their four children, Solomon received considerable help from his siblings and his two predecessors during a successful campaign against Cridersville Police Chief John Drake.
Election night proved to be a bittersweet event with the newly elected sheriff proudly carrying a picture of his father, the late Grover "Bud" Solomon. The elder Solomon also ran for the post in 1960 but was defeated by Sheriff Bob Davidson.
"There have been three major role models in my life," he said. "My dad, Sheriff Knoch and Sheriff Longsworth. My goal from the very start was a desire to help people and that has not changed over the years."
The St. Marys resident hopes to continue coaching midget football as he has for 25 years. He is also active in local youth baseball and basketball programs and previously served as president of the Rider Rooters in St. Marys.
"Al has the excitement and dedication it takes to be a good sheriff," Longsworth said. "I've worked with him for 25 years. He is a good and caring man who will serve Auglaize County residents well."
Phone: (419)586-2371, Fax: (419)586-6271
All content copyright 2005
The Standard Printing Company
P.O. Box 140, Celina, OH 45822