By Ryan Hines
rhines@dailystandard.com
The motto for a shooter is shoot until you find a rhythm.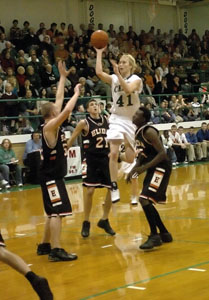 Luckily Celina's Brandon Wurster lives by that motto.
The Bulldogs' 6-4 senior forward missed his first 10 shots of the game, but drilled the game-winning three-pointer with 5.5 seconds left on the clock to lift Celina to a 31-30 victory over Elida at the Fieldhouse.
It was an important victory in the league race as Elida was considered one of the elite teams in the league but now sits at 9-2 overall and 2-1 in the Western Buckeye League. Celina (6-4, 2-1 WBL) joins Elida, Ottawa-Glandorf, Shawnee, St. Marys and Van Wert in a tie for the top spot in the league race with one loss apiece.
"Brandon was frustrated because his shots weren't falling, but as a shooter does, he just kept shooting, knowing that he was going to hit one and he did," said Celina head coach Mike Kanney. "We were just looking to screen and post up, like we were doing all night long and Brandon just got lost in the mix and hit a big shot. "I told the kids that we have just one loss and we're right in the mix in the league race," added Kanney after the game now knowing that Van Wert was beaten, creating a logjam in the WBL standings. "We just have to go out each night from here on out and play our game and see where it takes us."
"There's too much parity in our league and it's too early to count anybody out in the league race," said Elida head coach Chris Adams. "I thought that this team had the ability to be a front runner in the league and we showed tonight that we aren't at that point yet. We knew that this was going to be a gut-check game and we just didn't make shots."
Wurster, who did hit 4-of-4 from the free-throw line for a total of seven points, is starting to build a reputation as a clutch shooter for the Bulldogs and his confidence as a shooter in late-game situations never seems to waver. It was just Saturday when Wurster forced overtime against Toledo Rogers with a late three-pointer before Celina won the game in the extra session.
If there was a time where his confidence might have dropped a little bit, it would have been on Friday as he missed all six of his three-point attempts and all 10 field-goal attempts before his game-winning shot.
Elida's Aaron Thompson thought he had provided the visitors with the late-game heroics when he hit two late three-pointers, including one with 41 seconds left in the game giving the Orange and Black a 30-28 advantage.
Celina then worked the ball around the perimeter, as it had all game long, and senior Eric Klosterman decided to try and drive to the basket where he was cut off on the baseline by the Elida defense. Klosterman picked up his dribble and fired a pass to Wurster about three-fee behind the three-point line on the wing setting up the game-winner with just 5.5 seconds left on the clock.
"We were in a 1-3-1 look and when Klosterman drove, we collapsed on him and Wurster slipped out to the three-point line and got it off," said Adams. "Mike Smith rotated out to get him, but Wurster still got it off. He's probably the only guy for them that could have gotten that shot off on that play because of his size. I was so upset because we did such a good job of not letting Wurster get a three all night long and then he hits the game-winner."
Elida had the length of the floor to go for a possible game-winning shot of its own and Sarno was fouled by Seth Staugler at midcourt with 3.2 seconds left on the clock as the bonus free-throw situation had not been reached yet by Celina.
Following an exchange of timeouts by both teams, Sarno took the ball out of bounds, and nearing a five-second violation, found Mike Smith on the wing and the Elida guard misfired on a one-handed running shot as the buzzer sounded.
The late-game heroics wouldn't have been possible by Celina had the Bulldogs not played so well in the second quarter.
Trailing 8-4 early in the second quarter, Celina scored the next 13 points of the game to take a commanding 17-8 lead. Scott Luthman, who led all scorers for the Bulldogs with 12 points, led the charge with five points while Staugler and Klosterman each addd three points.
Elida responded with a 12-2 run from at the end of the second quarter to midway through the third quarter to take the lead 20-19.
It was a back-and-forth affair the rest of the way until Wurster's game-winner.
Defense dominated play throughout the game as neither team could muster to shoot better than 28 percent from the floor.
"That was a game with two teams that didn't make shots," said Adams. "It was a defensive game on both sides. We knew coming in that it was going to be a low-scoring game and it was."
"We did a great job defensively tonight as far as not letting them get into a rhythm," said Kanney. "They weren't able to just sit out there and get good looks at threes. They're shooting like 45-percent from three-point range so we knew that we had to get out on them and we did that. Giving up just 30 points against Elida is a great defensive effort."