By Sean Rice
srice@dailystandard.com
An Ohio Department of Transportation industrial-sized grinder loaned to Mercer County to handle storm-damaged trees and telephone poles has broken before being put to much use.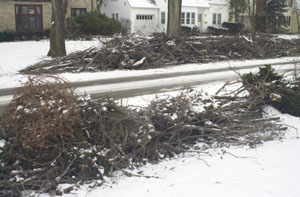 "Everybody (villages) is going to have to go out on their own and contract with somebody," Mercer County Office of Homeland Security and Emergency Management (EMA) Director Wanda Dicke said. "There's no other freebies out there."
EMA had secured the tub grinder from the state at no charge and set it up in Celina's former dump off Touvelle Street.
The grinder handles trees too large for typical brush chippers used by municipal governments. The plan was to move the unit to the Coldwater area after receiving trees from Celina and surrounding townships. Also, officials in Allen, Auglaize and other counties were in line to receive the grinder.
Now Celina, Coldwater, Jefferson Township and other municipalities are on their own since the state machine is broke. County officials are unsure when, or if, the state will come to claim the broken grinder. "The thing is as old as the hills," Celina Safety-Service Director Jeff Hazel said. "And they won't fix it."
Celina already has contracted with a private contractor, as did St. Henry and Coldwater. Municipalities also are conducting street-side brush chipping on smaller materials. Celina will be chipping until the end of the month, Hazel said.
Dicke is unsure whether municipalities can get reimbursement for cleanup costs under the state's emergency declaration, until the total damage cost is figured.
State and federal emergency management officials will be in Celina for a meeting at 8 a.m. Saturday to perform a damage assessment, Dicke said. The officials will meet in the Central Services Building.
Phone: (419)586-2371, Fax: (419)586-6271
All content copyright 2005
The Standard Printing Company
P.O. Box 140, Celina, OH 45822