By Ryan Hines
rhines@dailystandard.com
Celina was reminded on Monday night that when you play in the Western Buckeye League, there is no such thing as an easy game on the league slate.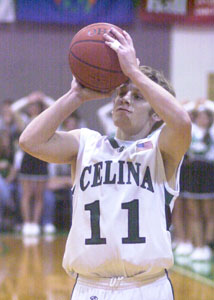 Kenton, winless on the year and currently riding a 34-game losing streak, pushed Celina to the limit, but the Bulldogs escaped the Fieldhouse with a 61-53 win behind a career-best game by Seth Staugler.
"Kenton came out and played really well tonight," said Celina head coach Mike Kanney. "I saw from watching them earlier in the year that they have some kids that can shoot the ball and it seemed that every shot that they put up went in. I saw them play against Hardin Northern earlier in the year (80-76 loss in OT) and they played well then too so they are getting better."
Celina sits in a first-place tie in the WBL with a 3-1 record while also climbing three games above .500 with a 7-4 overall record. Kenton falls to 0-10 on the campaign and 0-4 in league play.
An emotion-draining win over Elida on Friday was followed by a lethargic follow-up against Kenton, which last won a game on Feb. 6, 2003 against Toledo Woodward. "I think that we played without any focus at all tonight," said Staugler who led all scorers in the game with a career-high 19 points. "That's partly my fault and the other five seniors on the team. We kind of joked around and didn't take this game serious enough and didn't prepare real well. This game was a gut check big time."
"You kind of expect a little bit of a letdown after an emotional win like we had against Elida, but hope that it doesn't happen," said Kanney. We know that we have to come out hard each night in the Western Buckeye League because there are no easy games. Kenton is improving with each game."
Celina led for 28:40 of the total 32 minutes of action on the rare Monday night affair, but Kenton kept it close from start to finish.
Aaron Braun scored 13 of his 17 points in the first half to keep the Bulldogs one step ahead of the Wildcats, but the senior ran into foul trouble throughout the second half.
With Braun out of the game, Staugler took over as the top offensive option for Celina in the second half. Staugler scored 11 of his 19 points in the third quarter.
"Seth got some open looks and he knocked some down early and got hot. This was his best shooting performance," lauded Kanney. "He played well."
"I came out aggressive in the second half," said Staugler. "We couldn't get into a flow offensively and I got a few open looks and was able to knock them down."
Staugler's hot hand resulted in the Bulldogs building a 40-30 lead midway through the third quarter after a trio of three-pointers.
Kenton responded though as Chase Hommel, who led the Wildcats with 14 points, helped pull his squad to within four points at 44-40 at the end of three quarters of play.
The Wildcats nearly completed the comeback as Hommel drove to the basket and was fouled which resulted in a three-point play pulling Kenton to within one point at 45-44 with 6:58 to go in the game.
Staugler then stripped the ball from a Kenton guard at midcourt and turned the Wildcats turnover into a three-point play for Celina.
Scott Luthman, who hit for 13 points in the game, scored the games next four points to extend the Celina lead to 52-44 providing the Bulldogs with a little more of a comfortable cushion.
"The steal by Seth and the three-point play off of that was a huge play in the game because from that point on we put the game away," said Kanney.
The short Celina spurt seemed to weigh on Kenton from that point on as the Wildcats' defense slacked as the Wildcats were unable to get closer than six points the rest of the way.
In addition to Staugler, Braun and Luthman, Friday's hero, Brandon Wurster, also hit for double figures scoring 10 points.
Evan Redding scored 11 points and Zach Parshall added 10 points in addition to Hommel's team-leading 14 points.
Celina is back in action again on Friday night at Lima Bath as the Bulldogs will look to stay in a first-place tie atop the league standings.
Phone: (419)586-2371, Fax: (419)586-6271
All content copyright 2005
The Standard Printing Company
P.O. Box 140, Celina, OH 45822