By Gary R. Rasberry
grasberry@dailystandard.com
With three more Western Buckeye League matches to go before the league tournament at the start of February, the Celina wrestling team is getting in form to make a run at the league championship and beyond.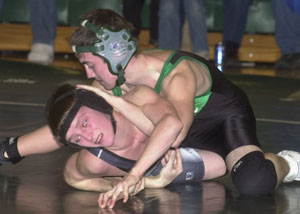 Of course, the way the MatDogs have wrestled all season, it looks like they don't need a lot of work to get into form.
The MatDogs ran their league dual match record to a perfect 7-0 with a 44-22 win over the Elida Bulldogs at the Celina Intermediate School on Tuesday night.
The MatDogs actually got off to a slow start as Elida jumped out to a 10-0 lead. Michael Winter, who has been one of the toughest wrestlers at 152 pounds this season, took control of his match with Kyle Knouff in the second period and gave Elida four points with the 13-5 major decision. Tyler Ladd took advantage of Dan Knoth moving into a cradle position in the 160 match and scored the pin at the 3:11 mark to put Celina in a spot not usually found, trailing by double digits.
"We started in the worse spot we could have (had)," said Celina coach Joel Zacharias. "We knew Winter was good and we knew Kyle would have a battle. At 160, I thought we could win, but Dan got pinned with the cradle. That's tough on a kid when you get in that." At 171, senior Jantzen Hinton battled Brooks Mohr, a 2004 WBL placer at 135. After a scoreless first, Hinton came close and looked to have Mohr set for back points, but the referee ruled that he didn't have him down for the allotted time. In the third, Hinton chose the down spot and looked to get at least an escape without having Mohr back-point him. With time under 15 seconds, Hinton finally found an opening and reversed Mohr to take the hard-fought 2-0 win.
"He wrestled a good match, a smart match," said Zacharias. "I know he wasn't feeling the greatest, but it was nice to go out (Continued from page 1B)

there and get the job done."
Hinton's gutsy effort paid big for Celina. Trent Hellwarth continued his strong season by pinning John Saffle in just 43 seconds to cut Elida's lead to 10-9. Zach Mertz gave the MatDogs their first lead at 215, pinning Adam Fletcher in 3:50. Elida got the lead back with its veteran heavyweight Shane VanVoorhis, who pinned sophomore Sam Eshelman in 40 seconds. Going back to the lightweights, Chris Diglia scored several takedowns but let up Tylor Thees up when he couldn't get the right setup for the pin. After Thees got a takedown, Diglia reversed and pinned Thees in 1:46 to make it 22-15 Elida.
That would be the final Elida points as Celina rolled the rest of the way. Andy Swain scored the 10-8 decision at 112 over Jason Hunlock before Cody Koesters pinned Shawn Murphy at 119 to give Celina the lead for good at 24-22.
At 125, Patrick Bailey needed only a second-period reversal to beat Jaden Overholt 2-0. Nick Gray followed up at 130 by beating Spencer Ladd 7-1. Kiel Hawk scored the final pin for Celina, needing 3:34 to take down Roy Rayl. Cody Wagner and Garrett Gray rounded things out with major decisions over their foes.
"I give Elida a lot of credit," said Zacharias. "They wrestled hard tonight."
With two league matches left, both at home, plus the always-tough Lions Invitational before the season ends, things will be busy for the MatDogs.
"We're going to be busy," said Zacharias. "Defiance is going to be a tough team. They beat Elida by the same (score) we did. It'll probably come down to the wire again.
"If we have everyone healthy, we'll be okay."
Celina split the two junior varsity matches. Nathan Chamberlain pinned scored a pin while John Bonvillan lost.
Celina hosts Ottawa-Glandorf at the Intermediate School on Thursday. On Saturday, the MatDogs will travel to the Riverview Invitational.
Next Thursday's match with Defiance will be held at the Fieldhouse.