By DAILY STANDARD STAFF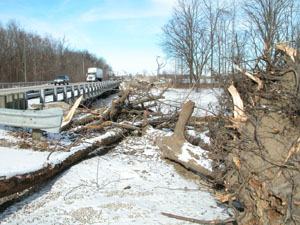 newsdept@dailystandard.com

Local officials are keeping their fingers crossed, hoping that state and federal disaster money will become available to help pay for recent ice storm and flood damage.
Preliminary estimates of ice storm damage for Mercer County hover around $600,000 and are expected to rise, local emergency management agency Director Wanda Dicke said Wednesday. The Auglaize County emergency management office has a preliminary damage estimate of $1.04 million for that county, administrative assistant Cheri Drinkwine said.
Both county emergency management offices will be meeting with federal and state officials this weekend to talk about financial help and firm up damage estimates.
Auglaize County officials have a damage assessment meeting at 1 p.m. Friday in the Auglaize County Administrative Building in Wapakoneta, and Mercer County's meeting is 8 a.m. Saturday in the Central Services Building in Celina.
Drinkwine said the Auglaize office reached its estimate by calling local government entities. The office would not release breakdowns by community until further assessments are completed. The estimate included only damage to public sector property and did not include personal property damage, Drinkwine said.
"The estimate is rough, but we needed a number to turn in for now," she said.
Dicke said the Mercer County's estimate was put together quickly in order to satisfy the federal and state deadline and to give those agencies a starting point. Once the towns and villages learn which costs and expenses are acceptable for federal/state reimbursement, tighter figures will be forthcoming.
The director gave an example of an allowable expense saying hours of regular pay are not permitted, but overtime hours are.
"Of course, the whole area of reimbursement is based on the county getting a presidential declaration of disaster, which is based on need. If we don't get it, well, I can't even speculate," Dicke said.
Celina
It is possible Celina may spend more than $100,000 recovering from the ice storm and flooding, Safety-Service Director Jeff Hazel said this week.
In the two-week period from Jan. 3 to 14, Celina spent just under $19,000 in overtime pay for employees, nearly doubling the normal payday cost of $21,000 for that time period.
Hazel, a salaried employee, said he worked 89 hours in a single week.
Officials do not have totals yet, but Hazel expects costs to be near $125,000.
To help repair all the power outages, electric line crews were brought in from six other communities, Napoleon, Yellow Springs, Orrville, Hamilton and Arcanum.
"I don't have anything yet to know the total costs," Hazel said, adding that one town already sent a bill to the city for $6,500, much lower than expected for three long days of work.
Damage to the electric network in Celina also is not completely known yet, Hazel said. About two dozen power and light poles were destroyed along with several transformers.
Celina Police Chief Dave Slusser indicated there were 64.5 overtime hours amassed during the ice storm. This included officers, dispatchers and other personnel called in to handle a rash of accidents as well as a flood of telephone calls to the department.
He said the police department lost about $100 worth of traffic cones in the flooding. They apparently were driven down, stolen or floated away.
Chief Doug Kuhn, who heads Celina fire and rescue activities, noted his department amassed approximately 20 hours in overtime costs. The majority involved responding to reports of downed wires and wires that had been pulled from buildings.
St. Marys
St. Marys officials gave rough estimates of 750 to 800 hours of overtime by city workers due to the storm. Police Chief Greg Foxhoven said the police department encountered about 22 hours of overtime by beefing up its available dispatch personnel.
City officials would not release any other information on costs due to the ice storm and flooding.
Rockford
In Rockford, village employees and volunteers also logged long hours. Increased costs have been marginal though, mostly because village workers are salaried and do not earn overtime pay.
Village streets still are lined with tree brush and limbs. Village Administrator Jeff Long said workers will gradually get rid of the debris.
"It isn't terrible. We're not going to set a deadline," Long said of the brush cleanup. "Whenever it's out there, we'll take care of it."
Flooding that followed the ice storm also did not hit the village hard financially. Volunteers, including some high school-age junior firefighters, took up efforts of sandbagging.
"We need to recognize those volunteers somehow; we're lucky," Long said.
St. Henry and Fort Recovery
In St. Henry, Village Administrator Don Hess has submitted a preliminary estimate of storm damage/expense to Dicke's office for $108,000. Fort Recovery Village Administrator Randy Diller has estimated the village's expense between $40,000 and $50,000.
Neither village was hurt structurally with no primary or secondary lines down. However, Fort Recovery lost a section of security fence at the park when a tree fell.
"It's still lying there. In fact, we haven't done anything yet about the park and cemeteries since they're not hurting anyone, neither are the line and pole down in the park. It only connects to one night light, so we'll get around to that when we can," Diller said.
St. Henry's Hess said the local Cooper Farms plant was up and running during the storm.
"The folks out there helped us locate two large generators for rent in Cincinnati so we could keep the village utilities up," he said, adding total rent for two generators for two days was $5,000, which included delivery by semi.
Coldwater
The village of Coldwater estimates approximately $120,000 in damages, reports Village Manager-Engineer Eric Thomas.
Cleanup of limbs and branches is still underway in the village's Memorial Park. Branches have been picked up throughout the town with a final pickup date set for Monday.
"We worked at cleaning up the town first, now we're concentrating on the park. The estimate includes everything, including rental of equipment, contractor costs, damage to some electrical equipment and wages," Thomas said.
Minster and New Bremen
Minster village workers put in about 165 hours of overtime following the ice storm Jan. 5, but the village is hoping to collect about 75 percent of the money from disaster relief funds.
Village Administrator Don Harrod said village officials are assessing damages to forward estimates to Auglaize County EMA for federal disaster relief funds.
"We believe the minimal electrical problems we encountered were a result of the aggressive tree trimming program," Harrod said.
New Bremen Village Administrator Larry Durkee said the village has encountered about 114 overtime hours so far due to the storm. He said the storm fell in the middle of pay periods and more overtime would be calculated at the end of the current pay period.
Road crews
Mercer County road and bridge crews clocked 240 overtime hours during the recent ice storm and flooding.
"A lot of berms and bridge rock were washed away," said Mike Borns of the county engineer's office. "We'll know more as the water recedes in the next few weeks."
He said dollar amounts were not yet available.
Auglaize County Engineer Doug Reinhart said his office is hopeful a presidential disaster declaration will occur in the next week or so, reimbursing the local areas for emergency services.
"I'm a little leery now every Wednesday," Reinhart joked, explaining that each disaster -- snow, ice and flood -- began in the middle of the week.
Reinhart said, as he understands it, the counties could get a 75 percent reimbursement for overtime, equipment and fuel expenses if the federal declaration is made.
Auglaize County road departments have tallied up more than $60,000 in employee overtime, contracted workers and equipment; nearly $117,000 for removing logjams along 23 miles of the St. Marys River; and another $17,000 for sanitary expenses, Reinhart said.
"It's going to take the rest of the winter to clean up this mess," he said, adding that his office is telling residents it will be five or six weeks, in some cases, before all branches are picked up.
Reinhart said he's also hoping to get a federal reimbursement for the extra maintenance that will be needed to get the St. Marys River back to normal flow from all the debris. Currently, the river maintenance program costs about $20,000 annually.
"That will likely double this year," he said.
Ohio Department of Transportation officials say they won't know if they'll seek extra funds for the state until the brunt of the winter is over.
Each year, federal and state funds, derived from highway taxes, are allocated for road construction and weather clean-up, explained Rhonda Higgins, spokeswoman for District 7, which includes Mercer and Auglaize counties.
"If we run out of funds, we likely will apply," she said. "Our weather's been horrible the last month, we'll have to see what else we get from here on out."
The only figures available from ODOT for road cleanup and overtime are from the snowstorm that struck the week before Christmas. Mercer County crews clocked 315 hours in overtime during that period; Auglaize County crews tallied 438 hours in overtime, Higgins said.
After plowing and treating a total of nearly 20,000 miles across both counties, ODOT costs for the time period reached nearly $46,700 in Mercer County and almost $53,000 in Auglaize County.
The ice storm that arrived Jan. 5 did not affect most roadways and led to minimal overtime by ODOT workers, she added, although the subsequent flooding put crews back into action.
-- Contributing to this story were Daily Standard reporters Sean Rice, Shelley Grieshop, Janie Southard, Margie Wuebker, Timothy Cox, Lance Mihm and Betty Lawrence.