By Shelley Grieshop
sgrieshop@dailystandard.com
The eerie sound of ice-laden branches cracking and falling to the ground has been replaced by the hum of chainsaws.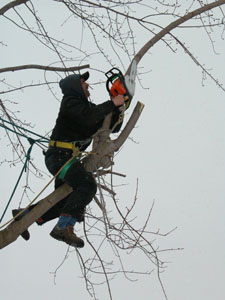 The tree service industry is booming right now and many business owners are pulling their hair out trying to keep up.
"Our biggest problem right now is impatient customers," said Jim Springer, owner of Springer & Sons Tree Service of Celina.
Owners of several area tree service businesses told The Daily Standard their lists are "extensive," and in many cases non-emergency jobs won't be completed for weeks, maybe months.
In ordinary circumstances, Springer said he can assess a property and give a timeframe for completion. But these are not ordinary circumstances, he said. "This is a lot trickier, branches are still really heavy with moisture," he explained. "Everything takes longer."
Most days his crew uses the drive-thru at fast-food restaurants to grab a sandwich; sometimes it's the only real break in their dawn to dusk day. The bitter cold this week has made it even tougher to keep up morale, he said.
"My employees are all getting bonuses," promised Springer, who also has a snow-plowing business during winter months.
Springer hired an extra employee recently to handle the growing workload. In the business for nearly 12 years, now, he has three bucket trucks and two chippers, including "one that will easily chew a telephone pole," he bragged. Because of the size and quality of his chipping equipment, he's now under contract with the village of Mendon, as well as Harbor Point and Northwood along state Route 703, he said.
The ring of the phone is constant right now. Many customers call just to find out where they're at on the list, he said.
One of the biggest problems sweeping the local area are "fly-by-night" tree services who often take customers' money up front and leave before finishing the job, he said.
"People need to be sure the service they hire is legitimate and has liability insurance. If a tree or branch falls on something or someone, who's going to pay?," Springer asked.
Scammers come around at times like this and take the gravy jobs, he said. And they rarely have the necessary insurance. Springer carries a million dollar liability policy and workmen's compensation for his employees, "and that's expensive insurance in this business."
Rich Tomasko of Tomasko Tree Service in the St. Anthony area said each incoming call amounts to three or four jobs.
"The callers want me to come to their house first, then their parent's and brother's houses when I'm done," said an exhausted Tomaska, 43. "It'll never end."
Local homeowners are particular about their yards and want the mess cleaned up now, he said.
"I've had people say, 'We look like hillbillies with our yard like this,' " said Tomasko, who is home recovering from a sliver of wood lodged in his eye.
Tomasko warns the public to be patient and careful. Even though the ice is virtually gone, hanging branches can still fall. He cringes, he said, when he sees people raking beneath trees in need of work.
Larry Wenning of Cover-All Landscaping of St. Henry said the recent snowfall and excess wind are making cleanup efforts even more difficult. Wenning advises customers not to be so quick to chop down trees.
"Just wait until spring and see how your trees recover," he advises.
Springer optimistically notes he's actually ahead of schedule, in a small way. The power of the ice helped trim some branches that were earmarked for pruning anyway, he said.
"I guess you could say we've got a head start on our spring work," he said.