By Gary R. Rasberry
grasberry@dailystandard.com
The Celina wrestling team celebrated senior night for its eight senior grapplers and then put on a stellar performance on Thursday.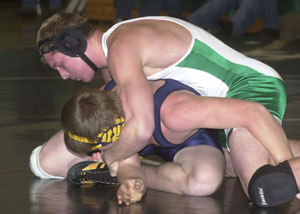 After the obligatory delivery of presents to the seniors, the real celebrating began.
The MatDogs clinched at least a share of the Western Buckeye League regular season dual match title with a convincing 73-4 win over Ottawa-Glandorf at the Intermediate School.
Celina is now 8-0 in league matches with one more contest, that coming against perennial league power Defiance at the Fieldhouse on Thursday.
All eight seniors scored points for Celina on the night, with six seniors scoring pins in their next-to-last league home match. Only Trent Hellwarth went the distance among the seniors on the night. Dan Knoth went out at 160 pounds to accept a void win. The MatDogs, who debuted their new white and green singlets for the match, started things out right with senior Cody Koesters winning the 119-pound match over Pat Williams with a pin in 2:18. Patrick Bailey followed up with an 8-2 decision over Trent Kuhlman.
After Nick Gray took a void win at 130, Kiel Hawk came out fast and furious on Joe Eckman, getting a takedown quickly into the match and keeping the pressure on Eckman until the referee slapped for the pin with four seconds left in the first period.
Cody Wagner also wanted to finish up early, pinning Jameson Siefker in 1:22 to make the score 27-0. Garrett Gray wasted even less time, pinning Mike Hughes in 29 seconds.
Kyle Knouff came up at 152 to take on Roman Ivasyshyn and scored a takedown early. The O-G exchange student staved off the inevitable for as long as possible before Knouff got the pin in 1:12.
Jantzen Hinton followed up with a pin at 171, putting Scott Loehrke's shoulders down in 1:10.
Trent Hellwarth came up at 189 against another WBL placer from 2004 in Joe Recker. Hellwarth got the early takedown but Recker was able to avoid giving up back points through the first two periods.
Hellwarth chose down to start the third and quickly reversed the hold and got two back points before the buzzer, winning an 8-0 major decision.
"Trent had a decent kid," said Celina coach Joel Zacharias. "He worked hard. It was a good match for him. He needs those kinds of matches going into the postseason.."
The pin parade continued at 215 as Zach Mertz pinned Bill Warnimont in 38 seconds. At 275, Sam Eshelman was warned, then penalized for stalling against Elliot Barraza. In a unique call to start the second, Eshelman chose up to start. The move proved good as Eshleman was able to put Barraza on his back quickly, scoring the pin in 2:39.
Tylor Thees kept the winning streak going at 103, pinning Adam Bockrath in 53 seconds.
The chance for Celina posting a second shutout on the season came to an end in the 112 match as Andy Swain was matched up with William Laibe. Laibe took control of the bout in the second period, getting a reversal and five near-fall points to take a 9-1 lead. Laibe added three more in the final moments of the third to get a 12-1 major decision.
Zacharias did not have much to say about the night, other than he was happy.
"It was a good night for the kids," said Zacharias. "It may have gotten them relaxed for the weekend tournament and get them ready for next week."
Celina will travel south on Saturday to take part in the River View Invitational.
Phone: (419)586-2371, Fax: (419)586-6271
All content copyright 2005
The Standard Printing Company
P.O. Box 140, Celina, OH 45822