MARIA STEIN -- After a lukewarm first two periods, the Marion Local Flyers got downright offensive in the second half and rolled to a 56-34 Midwest Athletic Conference win over the Fort Recovery Indians.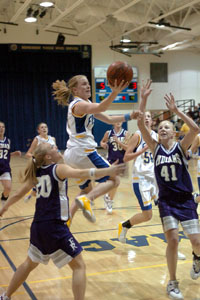 The win keeps the Flyers undefeated with a 13-0 overall record and a 5-0 MAC slate. The Indians fall to 9-4 on the year and 3-2 in conference play.
The first quarter of this one was a down and dirty defensive battle, as the Flyers led 7-3 after the two teams combined to make just three of the 18 shots they hoisted up for a paltry 17-percent effort.
The Flyers began to pull away in the second stanza as Maria Moeller started to heat up. The junior guard scored on a pull-up jumper, then fed Jenna Barhorst for two on a fast break, and later hit a pair of bunnies to end a 12-3 Flyer run that gave the hosts a 19-6 advantage.
The Flyers went into the halftime break with a 22-11 lead, but Marion coach Treva Fortkamp wasn't pleased with her squad's offensive effort. "I told them at halftime that we only had 22, and we are capable of scoring that in one quarter," said Fortkamp. "I give Fort Recovery credit because they got us out of sync, and it took until the second half before we got back in sync. I talked about us getting in their passing lanes defensively and getting some steals, because that's what basically generates most of our offense."
Marion responded by playing more aggressive defense, and the resulting pressure led to steals that ended up as easy scores. The Flyers made 56 percent of the shots they took in the second half, with a large percentage of them coming from inside the paint.
The Indians stayed within striking distance through most of the third quarter, but the Flyers put on a late run to build a commanding lead. Up 29-18, the hosts got a pair of buckets from Barhorst in an 8-2 run that raised the lead to 17 points.
"I thought the difference in the game was them getting 10 layups," said Fort Recovery coach Jeff Roessner. "If you cut that in half and we make a few shots, it's a different ballgame. Early in the year we had a few games that I didn't like when they were over, but this wasn't that kind of game. We just have to make some shots, that's what it comes down to."
Fortkamp was pleased to see her team build its lead a little more each quarter.
"At halftime our girls knew they had to kick it in gear and they did a good job of that," said Fortkamp. "Once we got things going in the second half we started to really roll. The girls are starting to realize that once you have somebody down you've got to put them away."
Moeller led all scorers on the night with 21 points, and she was joined in double digits by Barhorst with 16 and Kelli Stucke with 14. Sara Fortkamp was the lone Indian in double digits with 10.
Fort Recovery gets a week off before returning to the rigors of MAC play when St. John's will pay a visit to the Fort Site Fieldhouse. Marion takes to the road for a non-conference game Monday at Russia and then will return to league action with a Thursday game at Coldwater.
Phone: (419)586-2371, Fax: (419)586-6271
All content copyright 2005
The Standard Printing Company
P.O. Box 140, Celina, OH 45822