By Margie Wuebker
mwuebker@dailystandard.com
COLDWATER -- Ray Wenning and Elmer Dorsten remember days and nights filled with fear and uncertainty as they fought in the Battle of the Bulge, the largest land battle involving American troops during World War II.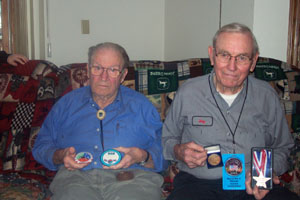 The pair returned to Europe in December as part of a 19-day tour organized by Veterans of the Battle of the Bulge. The government of Belgium paid the cost of an airbus as well as meals and hotel accommodations in order to bring nearly 100 men over for the 60th anniversary of the battle, which raged from Dec. 16, 1944, to Jan. 25, 1945.
Wenning, Dorsten and the other veterans made stops in France, Belgium and Luxembourg, where six decades ago they helped pave the way for peace.
"A lot of older people had tears in their eyes," Wenning says. "Children came running with paper and pencil in hand asking for autographs. I nearly got a case of writer's cramp."
Dorsten nods in quiet agreement recalling a stop in Charleboux, Luxembourg, where the group attended Mass at a church packed with people. Banks of television cameras stood near the altar, and more people waited on the steps and in the street. "We had to walk down a narrow aisle to our places in front," he says. "Folks lining the aisle grabbed our hands and one lady in her 90s reached out and hugged me. Later, we laid wreaths at monuments around town and stood at attention during the playing of the national anthem -- our own as well as those of the other countries. My arm got tired from all the saluting."
Each veteran received a commemorative medal from Henri, Grand Duke of Belgium, while Prince Philippe of Luxembourg hosted a lavish reception in their honor.
They visited cemeteries where many of 19,000 Americans killed in the battle are buried. Special ceremonies complete with a 21-cannon salute took place in Hamm, Luxembourg, the final resting place of General George Patton.
Wenning entered the U.S. Army on March 20, 1944, as an infantry replacement with the 30th Division. Dorsten served as an infantry NCO 745 rifleman with the Army's 80th Division after enlisting in September 1943.
Both crossed the ocean in stripped down luxury liners (the Queen Mary and the New Amsterdam) known as "Gray Ghosts" due to fresh coats of exterior paint.
"We never met up over there," Dorsten says. "Ray fought in the north, and the enemy kept me busy in the south."
He vividly recalls the start of the battle, which involved more than a million men -- 600,000 Germans, 500,000 Americans and 55,000 British.
"They loaded us onto trucks Dec. 16 and we kept the lights on all the way. The Fourth Armored Division was ahead of us and 80th Division Infantry was behind us. We were the first to go into the battle," Dorsten recalls.
The Coldwater men also remember the bone-chilling cold and a lack of hot meals.
"It was 20 degrees below zero, and I didn't have all of my winter clothing," Dorsten says. The garments, which finally caught up with him, included long johns, two sweaters, several pairs of socks, a winter uniform and a heavy coat.
"All that clothing kept me from getting badly hurt on one occasion," he adds. "My whole side was peppered when the shell went off. It felt like somebody left a box of honeybees go. I still have pieces of shrapnel in my arm and leg."
Wenning remembers three nights in particular when freezing to death before dawn was a possibility.
"We pulled out in The Red Ball Express (supply trucks) when the breakthrough came," he says. "Adolph Hitler's First SS Division caught us at midnight and dropped flares. Their strafing sounded like hail hitting our trucks and exploding bombs picked us off the ground. We scattered in all directions. The trucks were gone when I returned."
Wenning met up with a medic and a rifleman also separated from their units. They took cover in a barn and watched Germans moving along a nearby road with American trucks and equipment. The next day German paratroopers arrived, but no one approached the barn less than 185 feet from the road.
"We took two bites a day off our 4D bars and melted snow for drinking water. The area finally cleared one day and we left the next. The Germans had gone left so we headed right," Wenning recalls.
They encountered a young German SS trooper on the road. The blonde-haired, blue-eyed soldier, who also was lost, hollered "Comrade" and tried to hand over his gun.
"We needed to hook up with American troops; we didn't need a prisoner. I told him in German to get the heck out of here," Wenning says. "He started walking sideways apparently fearing we would shoot him in the back."
The sound of more activity sent the men scurrying for cover until they recognized American helmets.
"We went 102 days without a hot meal because fires could give away our location," Dorsten recalls. "I ate cheese three days in a row and it didn't get any better."
Their "deluxe foxhole rations" included a concentrated chocolate bar, three cigarettes, several matches, coffee, sugar, meat or cheese of some type and hard biscuits.
"I was one of four out of 18 who walked out of Bastogne," he says. "Not all of them were killed but a lot were. We left a lot of guys over there."
Wenning is still haunted by the sounds of the Malmedy Massacre. A Nazi tank detachment killed 86 American prisoners amid a hail of bullets he heard in the distance. He also became the target of a sniper on his 22nd birthday. Two bullets whizzed past his helmet; thankfully the gunman was no sharpshooter.
Dorsten was wounded four times while oversees, earning a purple heart with three clusters, two bronze stars and an array of citations. Wenning was carried off the front line Jan. 23, 1945, after sustaining serious frostbite to his hands and feet. He returned home with master sergeant ranking and numerous awards following a stint in France overseeing 2,000 German prisoners of war.
"Our trip back to Europe lasted about two weeks," Dorsten says. "But it brought back months and months and months of memories ... some good, the rest not so good."