By Ryan Hines
rhines@dailystandard.com
A balanced offensive attack and a tremendous night at the free-throw line led the Celina girl's basketball team to a 61-54 win over Bellefontaine in a game rescheduled due to Saturday's snowy weather conditions.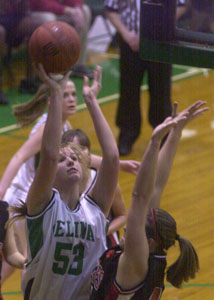 Four of the five Celina starters hit for double figures as the Bulldogs snap a five-game slide and improve to 5-10 overall.
Bellefontaine falls to 7-8.
"This was a big win for us because Bellefontaine has some quality players over there and we were able to come through and win a close game, which has been a problem for us this year," said Celina head coach Brian Stetler. "We made the plays in the clutch to win and that was great to see."
"Celina is a good team and I think that they haven't won as many games as they should have because they are better than their record shows," summed up Bellefontaine head coach Matt Comstock. Celina's inside game was too much for Bellefontaine as Laura Link, Betsy Hone and Liz Homan controlled the paint.
Link had a team high 17 points, pulled down a team-best 11 rebounds and was nearly perfect at the charity stripe going 9-of-10.
Hone, who did most of her damage on offensive off the dribble, was nearly perfect as well at the free-throw line going 10-of-12 for 16 points.
Homan was also a strong offensive option in the post as the freshman scored 13 points while Bulldog guard Allison Hoying was the fourth player for the Green and White in double figures with 10 points.
"It's good to see that balanced scoring out of us," said Stetler. "We only scored 18 points in our last game against Ottawa and you never know what the next game holds, but our girls were focused and ready to play and it showed."
"We were mismatched by their inside people," said Comstock. "We had a couple of our post players get into some early foul trouble and we couldn't stop their post people."
The balanced is nice, but Celina won this game at the free-throw line. The Bulldogs hit 26-of-34 at the charity stripe (76 percent) while Bellefontaine was limited to just 13 attempts, making nine.
"The game that I scouted them earlier in the year they didn't make free throws like that, but to their credit, they did tonight," said Comstock. "When you get in a close game like we had tonight, the free-throw line usually determines the winner and tonight it did."
Not only did Celina shoot well from the free-throw line, but the
Bulldogs were near perfect in the clutch situations and when the points mattered most. Celina hit 13-of-14 in the fourth quarter as Bellefontaine attempted a comeback.
"The way that we hit free throws tonight was huge," said Stetler. "Especially since we went 13-of-14 in the fourth quarter. Our motto is that free throws aren't going to win you ball games, they just win you the close games. We can talk about free throws all we want, but to see them go to the line and hit them in big situations is big for their confidence."
Thanks to a third-quarter charge to open the second half, Celina was able to ice the game at the charity stripe.
Leading just 21-20 at halftime, Celina opened the second half with a 12-0 run to build a 33-20 lead midway through the third quarter. Homan hit for six points during the spurt while Link added four markers.
"I think that 33 (Betsy Hone) was the key to their offense during that stretch because she got the ball up the floor and their big people ran the floor well and got some easy baskets," said Comstock. "Their big people finished the play off when they got the opportunities."
Bellefontaine responded with a 10-1 run of its own later in the third quarter to pull to within four points at 34-30 with 1:52 on the clock.
Following a Celina timeout, Homan and Link had back-to-back three-point plays to build the lead back up to 10 points.
The Chieftains got as close as six points in the fourth quarter, but the Bulldogs' performance at the free-throw line sealed the deal for the Green and White.
One bright spot for Bellefontaine came in the first quarter when
guard Danyelle LaBatt reached the 1,000-point plateau for her career. The Chieftain senior needed six points to hit the 1,000-point mark but poured in a game-high 23 points to go along with 11 rebounds in a losing effort. Katie Clem also hit double figures for Bellefontaine with 14 points.
Celina is back in action on Thursday on the road at Defiance for a Western Buckeye League tilt.
Phone: (419)586-2371, Fax: (419)586-6271
All content copyright 2005
The Standard Printing Company
P.O. Box 140, Celina, OH 45822